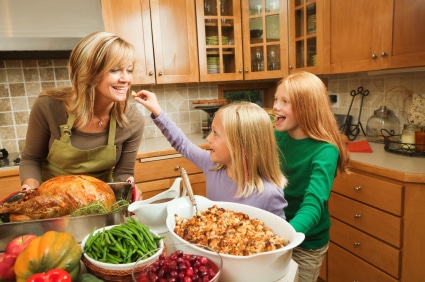 Thanksgiving Day: the words conjure up images of a perfectly browned turkey with all the trimmings… followed by the family passed out in food comas in front of the television. But your Thanksgiving meal doesn't have to blow your diet and leave you feeling like your overstuffed bird. Try these easy swaps to lighten up your meal without sacrificing any of the flavor.
TRADITIONAL DISH: Dark meat turkey with skin (206 cal, 8g fat)
LIGHTEN UP: Turkey breast without skin (153 cal, <1g fat)
The turkey is already the healthiest item on the traditional Thanksgiving menu. Choose light meat over dark for fewer calories and fat grams, and keep your portion sizes reasonable. If you think that breast meat is too dry, try this easy trick: cook your turkey in a plastic oven bag, breast side down, so that the juices run into the breast and not out of it. Your white meat will be just as tender and flavorful as the dark. If you belong to a family of light meat fans, cook a large turkey breast instead of an entire turkey.
TRADITIONAL DISH: Cornbread stuffing with sausage (441 cal, 19g fat)
LIGHTEN UP: Corn spoon bread (226 cal, 11g fat)
As much as we look forward to the Thanksgiving stuffing, it's one of the most fat- and calorie-laden dishes on the table. Substitute a southern-style corn spoon bread instead at about half the calories. If the holiday just wouldn't be the same without stuffing, choose a vegetarian recipe with tasty additions like sautéed apples or raisins and season liberally with fresh herbs. Stuffing doesn't have to pack a lot of fat to deliver robust flavor.
TRADITIONAL DISH: Green bean casserole (161 cal, 9g fat)
LIGHTEN UP: Roasted asparagus (60 cal, 4g fat)
No one will miss the French fried onion topping with this flavorful side dish. Arrange trimmed asparagus spears in a single layer on a cookie sheet. Drizzle with olive oil and season with salt and pepper. Roast at 375 degrees for 10 to 15 minutes or until tender.
TRADITIONAL DISH: Candied yams (237 cal, 8g fat)
LIGHTEN UP: Baked yams (90 cal, 1.5g fat)
Yams are sweet enough in their natural state without being drenched in sugar and butter. Bake whole yams in their skins as you would a potato, then serve half a yam split open with a dab of whipped butter and a drizzle of maple syrup. For a savory twist, sprinkle with cracked pepper and fresh thyme.
TRADITIONAL DISH: Mashed potatoes with cream and butter (200 cal, 10g fat)
LIGHTEN UP: Whipped sour cream potatoes (120 cal, 1g fat)
Eliminate the heavy cream and butter from your usual mashed potatoes recipe by substituting skim milk and nonfat sour cream. The skim milk still allows for a silky texture, and the sour cream adds body and tang.
TRADITIONAL MENU: Marshmallow ambrosia (375 cal, 12g fat)
LIGHTER MENU: Fresh fruit (120 cal, 1g fat)
Instead of the traditional canned fruit cocktail swimming in whipped cream and studded with marshmallows, serve an assortment of fresh fruit like strawberries, pineapple spears, melon wedges, and grapes. Serve with reduced-calorie crème Fraiche or low-fat yogurt for dipping. Even if you choose to sneak in some chocolate-dipped strawberries into the mix, you'll still be significantly ahead on your calorie count.
TRADITIONAL DISH: Pumpkin pie (379 cal, 14g fat)
LIGHTEN UP: Mini pumpkin parfaits (90 cal, 2g fat)
Thanksgiving begs for a spiced pumpkin dessert. Eliminate the high-calorie pie crust (and more than an hour of prep time) by serving mini pumpkin parfaits instead. In shot glasses, layer warm pumpkin pie filling with low-fat whipped cream or non-dairy topping and crushed gingersnaps, then garnish with a whole gingersnap.
Last, offer alternatives to high-calorie alcoholic beverages and soft drinks. Pitchers of ice water garnished with citrus slices and sparkling water flavored with a dash of cranberry juice are a lovely addition to the table, and they have the added benefit of helping to fill you up without adding calories.
Don't forget to watch the serving size, and most importantly, enjoy these moments of togetherness with your family and friends. By shifting the focus from your plate to the people for whom you are truly thankful, you can enjoy your holiday meal without regret.
Related Articles By Cathe:
Bringing Health to Your Happy Thanksgiving Meal!
5 Sumptuous Twists on Thanksgiving…That Won't Crash Your Diet!
Discover the New Health Benefits of Root Vegetables
5 Healthy Fall Fruits and Vegetables to Fall in Love With
A Healthy Thanksgiving Dinner for Vegetarians
What's the Healthiest Thanksgiving Pie?
5 Healthy Holiday Superfoods to Enjoy
Creating a Vegetarian- and Vegan-Friendly Thanksgiving