(Last Updated On: April 2, 2019)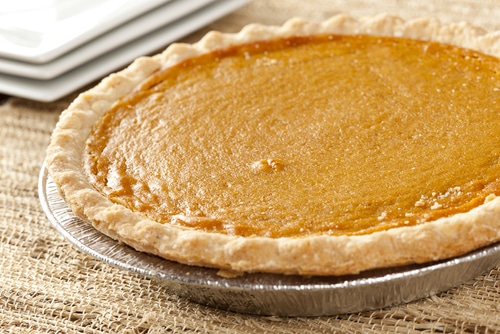 Most people gain a few pounds around Thanksgiving and Christmas. Fortunately, there are ways to limit the damage – and keep the needle on the scale from climbing to new heights. How? By making healthy food choices and staying active. Yes, it's important – even around the holidays.
One of the biggest temptations people face on Thanksgiving is sweets and desserts – especially the tempting array of pies and desserts. If you want to get your Thanksgiving "sweet" fix but don't want to tip the scales too high, which dessert should you choose? What is the healthiest Thanksgiving pie?
The Healthiest Pie for Thanksgiving Dinner
Let's face it. Pie isn't exactly health food. Between the high-carb, high-fat crust, the equally rich filling, and the fluffy whipped cream on top, it can only be called a splurge. Of course, if it's a fruit pie, you can feel less guilt by reminding yourself that fruit contains antioxidants. On the other hand, why not have a slice of pumpkin pie instead? It's a Thanksgiving pie that has some real health benefits.
Healthy Pumpkin Pie
Pumpkin is loaded with heart-healthy carotenoids – some of which the body converts to vitamin A. Vitamin A is a strong antioxidant vitamin that's critical for good vision – especially night vision. It's also important for healthy skin and a good immune system.
The carotenoids that aren't converted to vitamin A are good antioxidants and counteract the type of inflammation that can be a precursor to diseases such as cancer and heart disease. It's also a good source of vitamin C, E, and riboflavin. Plus, it has almost no fat and is low in calories.
Of course, most people add sugar and condensed milk to Thanksgiving pie, which doesn't add to the health benefits. To make a healthy pumpkin pie, replace the condensed milk with evaporated skim milk and any other milk in the recipe with almond milk.
Instead of using a commercial pie crust, make your own using Fiber One cereal ground into powder as the base instead of flour. If you're concerned about sugar, use a natural no-calorie sweetener such as Stevia. Hold off on the whipped cream, and you can enjoy a guilt-free, healthy pumpkin pie on Thanksgiving Day.
Thanksgiving Pie: Pumpkin Pie is the Best Choice
Even if you eat at a buffet on Thanksgiving and can't make your own healthy pumpkin pie, it's usually still the healthiest Thanksgiving pie choice at restaurants and buffets. The average piece of pumpkin pie has around 315 calories. Compare that to pecan pie, which has closer to 500 calories.
The Healthiest Pie for Thanksgiving Day: The Bottom Line?
Enjoy a piece of healthy pumpkin pie on Thanksgiving. You'll get a whopping dose of carotenoids and, if you make it yourself, it won't be high in calories and fat. Just don't eat the whole pie.
References:
World's Healthiest Foods website.
Nutrition Data website.
Related Articles By Cathe:
Healthy Things to Do with Pumpkin
Have Your Turkey and Eat It Too: 5 Steps to a Fantastic Thanksgiving (While Sticking to Your Weight Loss Plan)
5 Healthy Holiday Superfoods to Enjoy
A Healthy Thanksgiving Dinner for Vegetarians