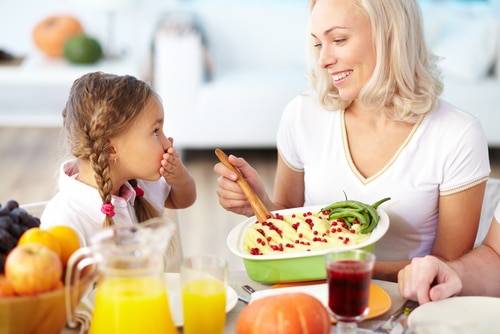 When most people think about the annual celebration of Thanksgiving, their first thoughts are of turkey, dressing and all the trimmings. The Thanksgiving dinner meal is a traditional feast packed with unhealthy fat and calorie-laden dishes. The average typical meal averages about 3,000 calories and contains 229 grams of fat. Compare that to a healthier vegetarian Thanksgiving meal that is just as tasty and satisfying, but only contains an average of 900 calories.
Start by selecting a variety of healthy appetizers such as mushrooms stuffed with pecans, deviled eggs, cheese puffs, roasted pumpkin seeds, shrimp with cocktail sauce and a cheese ball made from low-fat cheese. Choose raw vegetables such as cucumbers, carrots, celery, broccoli and cauliflower for dipping into low-calorie ranch dressing.
The Traditional Thanksgiving Dinner and Alternatives
The traditional Thanksgiving dinner features turkey or ham as the main entrée, but there are delicious alternatives to this annual meal. There are those who dislike turkey or ham, but still, want to enjoy the holiday and the other traditional foods that go along with it. Vegetarians do have other choices when it comes to the main course and can start their own holiday traditions with healthier menus that fit their lifestyle.
Many grocery and specialty food stores now offer faux birds that are extremely high in proteins and amino acids. Birds made of a tofu-wheat protein blend provide an alternative for vegetarians wishing to serve a meal close to the traditional turkey or ham dinner. Some find meat, even fake meat, distasteful, but still, want to include a delicious main course that fits the season. Many dishes that include seasonal favorites help make the holiday a special occasion.
Lasagna made with seasonal greens such as Swiss chard and kale makes a delicious main entrée that is delicious without any meat. Different cheeses such as parmesan, mozzarella, Romano and ricotta, layered with lasagna noodles and topped with thick marinara sauce, make this a delicious main dish that is low in fat. Vegetable ratatouille made with eggplant, green pepper, winter squash, plum tomatoes, and penne is another option for the main course. The seasonal colors and flavors add to the festive atmosphere of the holiday.
An excellent holiday dish that celebrates the autumn season and harvest is a baked pumpkin stuffed with root vegetables such as potatoes, onions, and turnips. Butternut squash roasted in olive oil and then stuffed with black beans and onions is another main entrée made with vegetables. Cauliflower and other seasonal vegetables sautéed together in olive oil provide a low-fat alternative to creamy mashed potatoes.
Thanksgiving Dinner Side Dishes
Most classic side dishes, traditionally served with a Thanksgiving dinner, are healthy, to begin with, but the addition of some ingredients adds calories and fat. Adding fried onions, mushroom soup and bacon to green beans makes the dish undesirable for health-conscious vegetarians. A better option is to sauté the green beans with chopped or minced onions in vegetable broth and top with slivered toasted almonds. Eliminate high-calorie marshmallows and brown sugar when preparing mashed cooked sweet potatoes. Sprinkle them with a mixture of cinnamon, sugar and chopped roasted pecans instead. Sweet potatoes add vitamins, minerals, and beta-carotene to the meal.
Choose a nutritious green salad made from leaf lettuce or romaine topped with chopped tomatoes, celery, carrots, cucumbers, and other vegetables. When served with low-calorie dressing, this salad provides a healthy alternative to gelatin or fruit salad made from canned fruit. Top the salad with walnuts to add omega-3 fatty acids.
Cranberries are full of antioxidants and are a major side dish for the traditional Thanksgiving dinner. Choose cranberry relish made with fresh cranberries over canned jelled cranberry sauce to save extra calories and sugar. The addition of the cranberry relish adds a distinct taste to the main entrée and side dishes.
Instead of traditional stuffing, make a healthy carrot-raisin stuffing using cornbread stuffing mix, vegetable oil, chopped carrots, raisins, crushed pineapple in natural juices and apple juice. Try a stuffing made from artisan bread, olive oil, onions, garlic, fennel, Italian seasoning, black olives, and spices. Cornbread stuffing made with vegetables such as onions, celery, mushrooms, fresh sage and thyme, and vegetable broth makes an appealing side dish.
Reduce the calories associated with rich Thanksgiving desserts by serving healthier ones. Pumpkin custard is a lower-calorie dessert that provides an alternative to pumpkin or pecan pies. Baked apples have fewer calories than apple pie and are just as delicious. Instead of heavy frosted cakes, serve fat-free angel food cake with fresh fruit.
Bottom Line
You can easily modify most traditional Thanksgiving dinner dishes to vegetarian fare since many are already heavy on vegetables. A meal without turkey or ham is just as delicious and is much healthier than one with meat. Stuffing and meatless gravy with lots of spices taste just as delicious with all the classic side dishes. Vegetarians can enjoy the wonderful tastes of a traditional Thanksgiving meal without making any sacrifices. Planning and creativity can make Thanksgiving an enjoyable family experience for all.
Related Articles By Cathe:
5 Sumptuous Twists on Thanksgiving…That Won't Crash Your Diet!