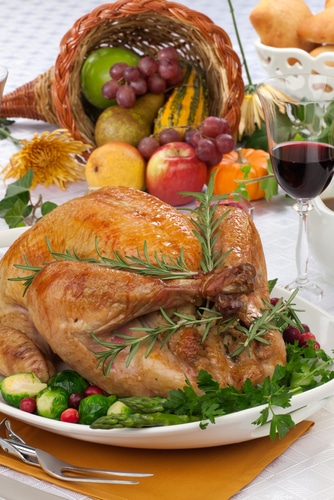 Thanksgiving is just around the corner, and if you're watching your waistline you might assume that this means you'll have to give up many of your favorite foods this holiday season. Don't despair! With a few minor twists, you'll find that you can still celebrate the holidays with many of your favorite foods.
 Thanksgiving Turkey
This traditional Thanksgiving staple requires little to make it fit easily into your weight-loss plan. Turkey is a nutritional powerhouse – high in protein, low in fat, and packed with B vitamins. Given that turkey is often a go-to lean protein for the health-conscious, there's little you really need to do to make the traditional Thanksgiving bird better for you.
The twist: Remove the skin after cooking, and stick to white meat if you're looking for a lower-fat option. Studies show that cooking the bird with the skin on works to keep it from drying out as it cooks without increasing the fat content of the meat itself. All you have to do is remove the skin before you eat. Those who are watching their fat intake should steer clear of the darker cuts and opt for white meat, which is considerably leaner.
Stuffing
Ah, but what's a turkey without stuffing? Sadly, stuffing is often loaded with fat and empty calories – toasted white bread and sausage being two of the main culprits – which means many dieters find themselves having to pass up on one of the best parts of Thanksgiving dinner. Is there any way you can stick to your diet and still help yourself to the stuffing?
The twist: Ditch the breadcrumbs in favor of low-carb, high-protein options, and go heavy on the veggies. The secret to a healthier stuffing is to drastically cut the empty carbs. Ditch the breadcrumbs and substitute them with almond flour. (Tip: if you can't find almond flour, just grind some raw almonds in your blender or food processor.) And substitute sausage (which is often full of fat and empty carbs) for a lower fat, low-carb alternative – ground turkey or ground pork are both good bets. And don't be afraid to go heavy on the veggies! Vegetables are low in calories and high in fiber – two things that will make your stuffing both more satisfying and easier on your caloric budget. Finally, give your stuffing a bold, autumnal kick with the help of nuts (walnuts and pecans are a great bet) and dried fruit (apples, figs, and dates – all of which are nutritionally dense).
Cranberry Sauce
Cranberries offer a wealth of nutritional benefits – they're naturally high in fiber and in a number of phytonutrients, notably polyphenols. Unfortunately, the most popular method for serving cranberries at Thanksgiving involves dousing them in sugar – not exactly the best thing for someone who's looking to watch their caloric intake.
The twist: Make your own cranberry relish, and sweeten it with zero-calorie sweetener. Cranberry relish is a tart, crisp, fresh alternative to canned cranberry jellies, and the best part is you can make it on your own, at home, with little to no effort. There are a number of recipes for cranberry relish – most of them involve very few ingredients (usually a bag of frozen cranberries combined with other fruits, usually citrus) and take well under an hour to prepare. Whatever type of relish you make, try sweetening it with zero-calorie sweeteners, such as stevia.
Pumpkin Pie
Pumpkin pie is one of those Thanksgiving foods that we can all really be thankful for. It's main ingredient, pumpkin, is naturally nutritionally dense, given that it's loaded with Vitamin A and fiber. And while most dieters can safely indulge in a slice of pumpkin pie without throwing their weight loss plan out the window, there are some ways to make this Thanksgiving treat even healthier.
The twist: Switch up the crust, and use a no-calorie sweetener to boot. The least healthy part of any slice of pumpkin pie is without a doubt the crust, given that it's most often made with white flour and lard, butter, or vegetable shortening. Fortunately, there are ways around this. One way to cut the calories in the crust is to roll it thinner. This works both with homemade and store-bought crusts. Another way to make your crust more nutritionally dense is to substitute almond flour for wheat flour – this will make the crust crunchier, higher protein, and will offer a nutritional kick that pumpkin pie normally doesn't have. Finally, whatever crust you use, you can always cut the calories in pumpkin pie by using a no-calorie sweetener, such as stevia, in place of all or most of the sugar.
Sweet Potato Casserole
Like pumpkin, sweet potatoes are packed with Vitamin A, fiber, and a host of other phytonutrients. These nutritional benefits are often undermined when sweet potatoes are served in their traditional, fatty, calorie-packed Thanksgiving form (i.e. swimming in butter and sugar and encased in a prison of gooey marshmallows).
The twist: Cut back on the butter, enlist the help of a healthier topping…and consider ditching the sugar, too! Sweet potatoes are luscious enough on their own – so this year, try to envision the sweet potato casserole as a means of showcasing the sweet potato in all its glory. The first step to doing this is to cut down on the butter – this will drastically cut down on the calories, not to mention unhealthy saturated fats and cholesterol. You might even try substituting a healthier, plant-based oil, such as virgin coconut oil, for the butter. The second step – and this one's important – is to get rid of the marshmallows in favor of a healthier topping. There are lots of options – one of my favorites is a topping made of chopped pecans sweetened with brown sugar (or stevia) and flavored with cinnamon. You could also try toasted oats and maple syrup, or lightly toasted coconut flakes. Finally, given that sweet potatoes are naturally sweet, experiment with drastically reducing the amount of sugar you add. And if you use a sweetener, try using a natural one: raw sugar, raw honey, maple syrup, and stevia are all great options.
Related Articles By Cathe:
Discover the New Health Benefits of Root Vegetables
5 Healthy Fall Fruits and Vegetables to Fall in Love With
A Healthy Thanksgiving Dinner for Vegetarians
Bringing Health to Your Happy Thanksgiving Meal!
What's the Healthiest Thanksgiving Pie?
5 Healthy Holiday Superfoods to Enjoy