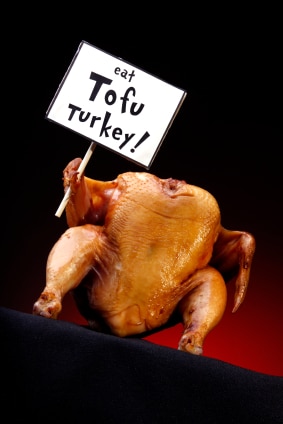 While the leading role at Thanksgiving dinner may go to the turkey, the supporting cast often steals the show. In this vein, vegetarians and vegans do not have to miss out on the traditional trimmings and fixings. With careful attention to planning, guests can enjoy the standard side dishes they enjoy most without having to sacrifice taste or tradition.
By definition, vegetarians do not consume meat, poultry, fish, or seafood. This dietary restriction will prohibit them from enjoying the turkey, but steps can be taken to ensure that they do not miss out on anything else. Gravy and stuffing can be prepared separately from the turkey to ensure the absence of meat remnants. The cook can use vegetable stock instead of poultry stock to prepare stuffing and gravy, allowing all guests at the table to enjoy these dishes without restrictions.
Vegans follow a stricter form of the vegetarian diet. A vegan diet requires the avoidance of all meat and meat by-products. Restricted foods include dairy products, certain types of gelatin and sweets, and various other items made with animal by-products. If one of your guests is vegan, ask them in advance what their specific dietary restrictions include. Some vegans may be more sensitive to ingredients than others.
The average Thanksgiving dinner contains nearly 3,000 calories. Vegetarians will shave up to 500 calories off of this total by avoiding the turkey and other products containing traces of meat or poultry such as stuffing or gravy, but this assumes they don't eat something else instead.
Vegans will likely ingest up to 800 fewer calories, as the necessary food substitutions are typically healthier. Aside from the turkey, various meal substitutions will be necessary in order for vegans to enjoy a full Thanksgiving spread. These substitutions often incidentally reduce the calorie count and amount of fat in a dish.
There are various turkey substitutions on the market that can provide a meat substitute for your vegetarian and vegan guests. One popular option uses tofu to create a consistency and look that is similar to the bird itself. The most successful way to make your vegan guests feel welcome, though, is to thoughtfully employ vegan ingredients throughout the meal.
How to Make Your Thanksgiving Meal Vegan-Friendly
Preparing a Thanksgiving dinner for vegans can seem daunting, but making a few substitutions across the board will make the task much simpler and healthier for everyone at the meal. Most side dishes center around vegan- and vegetarian-friendly items such as green beans, potatoes, yams, and apples. Here is a brief list of the top substitutions you must consider to make a vegan-friendly Thanksgiving meal.
1. Eggs
As an animal by-product, eggs are prohibited in the vegan diet. However, there are various types of egg substitutes that can be used in dishes such as cakes, pies, bread, quiches, and more. One option is to purchase a vegan egg substitute, which mimics the consistency of a real egg and successfully binds dishes. Such substitutes generally include 60 fewer calories per one-egg serving. You may even already have some popular egg substitutes in your kitchen. For each egg a recipe calls for, you can replace it with half of a mashed banana. Another option is to blend tofu with the liquid part of the recipe. You can also create an egg-like paste using one tablespoon of soya flour and one tablespoon of water.
2. Milk and cream
Without even realizing it, milk and cream can play a large role in Thanksgiving meals. Many cooks rely on heavy cream to achieve the perfect mashed potatoes, and dinner guests often use half-and-half in their post-meal coffee. If you've been to a big grocery store in the past ten years, you've likely seen a huge increase in the number of non-dairy milk substitutes. Some popular options include soy milk, rice milk, and almond milk. For purposes of baking, soy milk is considered the best substitute. Rice milk should be avoided in baked goods as it will lead to a dryer outcome, but it is excellent to use in cooking. Each of these ingredients can be substituted for the same amount of its dairy counterpart that is called for in the recipe. While milk substitutes will likely include the same number of calories as dairy milk, they will generally have less fat.
If your recipe requires buttermilk, you can concoct a good vegan stand-in by mixing a cup of soy milk with two tablespoons of lemon juice. Allow the mixture to sit for five minutes before adding it to the mixture.
Sour cream and cream cheese are easier challenges, as there are store-ready vegan substitutes for both available at most grocery stores and health food stores.
3. Butter
Butter is the main ingredient in many potato dishes, sweet potato dishes, cakes, and casseroles, but substitution is easier than you may think. There are vegan butter options at most food stores that can be used in recipes or as a spread. If you intend to use one of these substitutes in a pie crust, be sure to freeze it before mixing it into your recipe as it tends to be less solid than dairy butter.
In most recipes, you can also substitute vegetable oil or canola oil for butter. If you go this route, note that you should use ¾ cup vegetable oil for every one cup of butter required.
Butter substitutions will significantly reduce the fat and saturated content in your dishes, though they typically include the same number of calories per volume.
4. Cheese
Though Thanksgiving dinner is not traditionally heavy on cheese content, it is a significant adjustment for the vegan diet and needs to be noted in case a recipe calls for cheddar or parmesan. For many vegans, cheese is the most challenging food substitution. There is now a range of vegan cheese substitutes on the market. These pre-made shredded options would likely be your best choice for vegan substitutions.
Vegan cheese is typically much healthier than its dairy cousins, saving on average 40 calories per one ounce serving.
5. Gelatin
While this may not spring to mind as the main ingredient in many Thanksgiving dishes, it is worth noting as it is often overlooked as an animal by-product. Some sauces, desserts, and gelatin molds include this product as an ingredient. Some companies now make vegan gelatin that you can use exactly like the type you are used to purchasing. You can also use agar flakes or powder as a substitute. Though it will not make a substantial caloric difference, it will put your guests' minds at ease.
By paying special attention to these ingredients, you can make a hearty and delicious Thanksgiving dinner with the necessary dietary considerations and without sacrifices.
Some Things Won't Change
Despite the lower fat and lower calorie content in most vegetarian and vegan dishes, it is still important to pay attention to portion sizes. Even if one cup of mashed potatoes is 50 calories less with vegan substitutions, eating two cups of the side dish will cost more calories than it saves. Taking reasonable amounts of the items you want to eat will help you keep your calorie numbers in a healthier range.
Another thing that won't change is the meaning of the holiday. Regardless of what you are serving and eating, the idea behind Thanksgiving is to spend time with your loved ones, to share a meal, and to be thankful. Your vegan and vegetarian guests will be very thankful for the thought and care you put into planning the meal.
Related Articles By Cathe:
A Healthy Thanksgiving Dinner for Vegetarians
Bringing Health to Your Happy Thanksgiving Meal!
5 Sumptuous Twists on Thanksgiving…That Won't Crash Your Diet!
Discover the New Health Benefits of Root Vegetables
5 Healthy Fall Fruits and Vegetables to Fall in Love With
A Healthy Thanksgiving Dinner for Vegetarians
What's the Healthiest Thanksgiving Pie?
5 Healthy Holiday Superfoods to Enjoy
Creating a Vegetarian- and Vegan-Friendly Thanksgiving