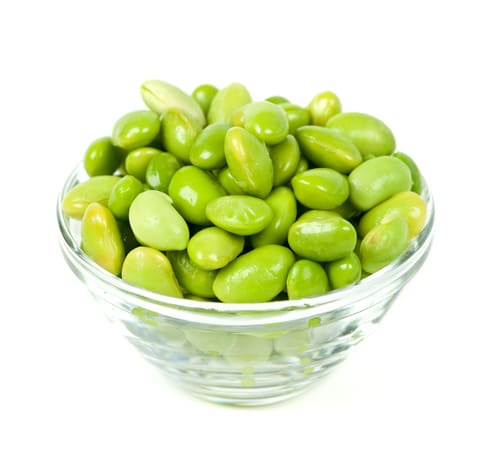 You already know that veggies are loaded with heart-healthy fiber and cell protective antioxidants, but there's another food that's rich in fiber and antioxidants that most people don't get enough of – beans. Beans are one of the least expensive foods you can buy, but they offer a wealth of health benefits. Not only are they a nutritional powerhouse, but research also shows that beans help to keep weight off, possibly because they contain so much appetite-suppressing fiber. The next time you're looking for a nutritious way to fill your tummy, try these three beans that earn top honors for their health benefits.
Black Beans
Black beans are black in color because they contain high levels of anthocyanins, the same antioxidant compound that makes blueberries such a power food. Black beans offer more antioxidant activity than any other common bean you can buy at the supermarket. On top of that, a cup of black beans supplies over half of your daily fiber requirements and has an impressive 15 grams of protein. Enjoy them as a side-dish or turn them into a cup of soup to sip before a meal.
Kidney Beans
Kidney beans rank close behind black beans in terms of antioxidant power. In fact, kidney beans have antioxidant benefits that rival those of blueberries, a food known for its ability to squelch free radicals that damage cells. Not bad for such an inexpensive and versatile food. Like black beans, they're a good source of protein and fiber. How about some kidney bean chili or a bean salad with kidney beans as the focal point? Try kidney beans and brown rice with hot sauce on a day you want to lighten up on the meat.
Edamame
Edamame is a green soybean that is harvested before it is completely mature. They're growing in popularity as a protein-rich snack favored by vegetarians and other health-conscious people. For good reason. These tasty little beans that are often served still in their pods are an excellent source of protein. One cup contains 17 grams of non-meat protein that has all of the essential amino acids the body needs for health, unlike most plant foods that are deficient in one or two.
Edamame is an excellent source of folate, a B-vitamin that's important for DNA synthesis and repair. It also contains isoflavones, compounds with weak estrogen-like properties that are heart-healthy and reduce the risk of bone loss due to osteoporosis.
To get their health benefits, lightly steam them while still in their pod, and enjoy them as an appetizer or snack. You can also add them to stir-fries and soups for added nutritional power.
The Bottom Line?
You can't go wrong by eating these three beans, but remember that all beans have health benefits. They're good sources of fiber and protein that help to control blood sugar and increase satiety, which can help with weight loss. Add them to soups, salads or simply enjoy them as a side dish.
References:
Nutraingredients.com. "Black Beans High in Antioxidant Ratings"
The Men's Health Big Book of Health and Nutrition. Rodale Inc. 2011.
World's Healthiest Foods website.
Related Articles By Cathe:
3 Healthy Beans That Add Nutritional Punch to Your Diet
5 Surprising Facts about Beans
Can Eating a Single Serving Daily of This Food Help You Lose Weight?
A New Reason to Add Beans and Lentils to Your Diet
Nine Amazing Health Benefits of Kidney Beans