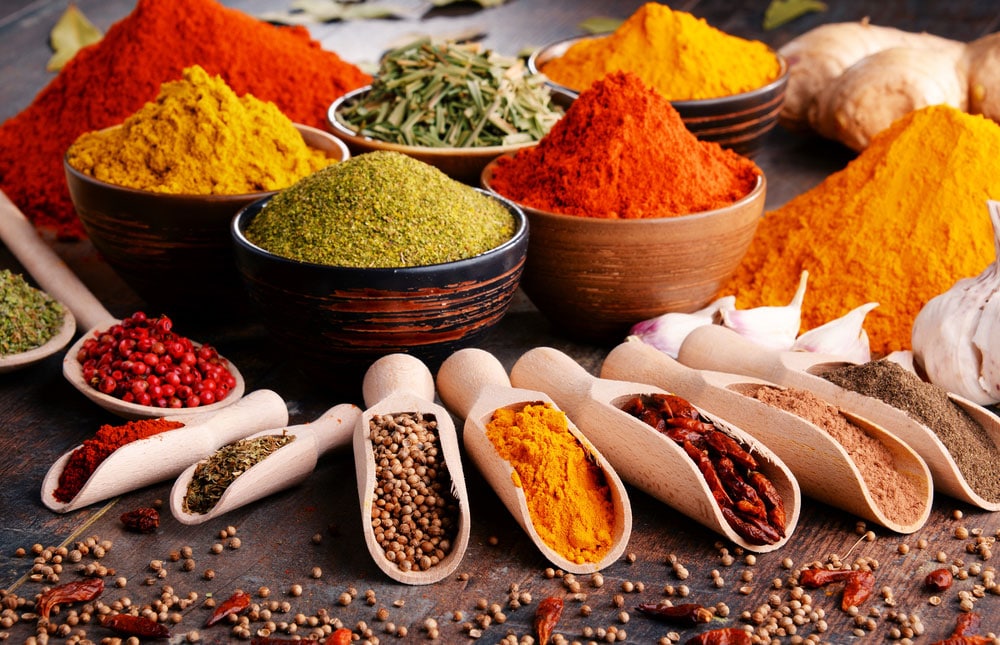 You already know that fruits and vegetables are rich in compounds that fight inflammation, but the spices you place on those vegetables do too. In fact, by weight, spices are richer in antioxidants and compounds that fight inflammation than produce. So, you can add extra flavor and anti-inflammatory punch to your meals by sprinkling on the spices. They'll taste better too. Let's look at five of the best anti-inflammatory spices based on science.
Ginger
Ginger has a sweet but pungent flavor that helps ease nausea, but studies also show it fights inflammation, thanks to an abundance of chemicals called gingerols. A few studies have looked at the effect of ginger on markers of inflammation. One with over 1000 subjects found that consuming an average of 2,000 milligrams of ginger daily reduced blood markers of inflammation. Another study showed a lesser amount, around 500 milligrams to 1,000 milligrams of ginger improved joint function in people with osteoarthritis. The subjects also enjoyed a drop in inflammatory markers. How about a little ginger in your next stir-fry?
Turmeric
Turmeric is a component of the Indian and Thai spice called curry that adds flavor to ethnic dishes. Ingredients in turmeric also help dial back cell and tissue-damaging inflammation. The active ingredient in turmeric is curcumin, a compound that some research shows reduces inflammatory markers. But can it fight pain too? Some research also shows curcumin lessens the painful joint symptoms that people with osteoarthritis get. It's another reason for people with arthritis to spice up their meals.
You can buy turmeric supplements, but why not enjoy their benefits by adding them to culinary creations? To enhance absorption, combine it with black pepper and consume it with a source of fat, such as olive oil. Curcumin is poorly absorbed without a source of fat, and the piperidine in black pepper improves its availability to the body, so you can get more benefits.
Garlic
Garlic is one of the most popular herbs in the spice cabinet from a culinary standpoint. What Italian dish would taste good without it? Garlic, being an abundant source of sulfur compounds, helps thin the blood and lower the risk of blood clots. There's also some evidence that it modestly lowers blood pressure.
Another way it may reduce the risk of cardiovascular disease is by reigning in inflammation. One study where subjects took garlic supplements displayed a significant drop in a marker of inflammation called C-reactive protein. Of course, you could end up with a bad case of garlic breath, but don't fret. Studies show that eating parsley, an apple, or drinking green tea neutralizes the aroma of garlic.
Cinnamon
Who doesn't enjoy a pinch of cinnamon in coffee or a bowl of porridge? As long as you don't get cinnamon by eating cinnamon buns, this aromatic spice has health benefits. Some studies show it lowers the blood glucose response to a meal, but it also has anti-inflammatory properties. One marker of inflammation and a higher risk of cardiovascular disease is C-reactive protein. (CRP) A study found that supplementing with cinnamon in doses of 1,200 to 3,000 milligrams daily lowered levels of this inflammatory marker.
One warning: Cassia cinnamon, the most common kind, contains high levels of coumarin, a compound that can cause liver damage. Another form of cinnamon called Ceylon cinnamon contains only a small percentage of the coumarin that's in Cassia cinnamon. So, it's a better choice from a safety perspective. However, it may have less of an anti-inflammatory effect than Cassia cinnamon. If you use Cassia cinnamon, limit the quantity to no more than a teaspoon a day to avoid the potential risks of too much coumarin.
Rosemary
Some research links rosemary, an herb, and spice known for its savory qualities, with improvements in memory. Some of those benefits may come from its anti-inflammatory properties. Studies show extracts from rosemary turn on enzymes that ease oxidative stress and inflammation and helps protect against tissue damage due to oxidative stress.
Rosemary contains a mix of compounds with anti-inflammatory activity, including rosmarinic, carnosol, and carnosic acid. Enjoy these inflammation-fighting components, but be aware that excessive amounts of rosemary reduce iron absorption. You also should avoid it if you have seizures since it could trigger seizures in susceptible individuals.
The Bottom Line
If you have arthritis or other inflammatory conditions, add some of these spices to your diet and enjoy the health benefits.
References:
com. "9 Herbs and Spices That Fight Inflammation"
Morvaridzadeh M, Fazelian S, Agah S, Khazdouz M, Rahimlou M, Agh F, Potter E, Heshmati S, Heshmati J. Effect of ginger (Zingiber officinale) on inflammatory markers: A systematic review and meta-analysis of randomized controlled trials. Cytokine. 2020 Nov;135:155224. doi: 10.1016/j.cyto.2020.155224. Epub 2020 Aug 5. PMID: 32763761.
Mozaffari-Khosravi H, Naderi Z, Dehghan A, Nadjarzadeh A, Fallah Huseini H. Effect of Ginger Supplementation on Proinflammatory Cytokines in Older Patients with Osteoarthritis: Outcomes of a Randomized Controlled Clinical Trial. J Nutr Gerontol Geriatr. 2016 Jul-Sep;35(3):209-18. doi: 10.1080/21551197.2016.1206762. PMID: 27559855.
Mirzavandi F, Mollahosseini M, Salehi-Abargouei A, Makiabadi E, Mozaffari-Khosravi H. Effects of garlic supplementation on serum inflammatory markers: A systematic review and meta-analysis of randomized controlled trials. Diabetes Metab Syndr. 2020 Sep-Oct;14(5):1153-1161. doi: 10.1016/j.dsx.2020.06.031. Epub 2020 Jun 19. PMID: 32673835.
An analysis of 15 high quality studies followed 1,223 people who took 112-4,000 mg of curcumin daily for periods of 3 days to 36 weeks (17Trusted Source).
Tabrizi R, Vakili S, Akbari M, Mirhosseini N, Lankarani KB, Rahimi M, Mobini M, Jafarnejad S, Vahedpoor Z, Asemi Z. The effects of curcumin-containing supplements on biomarkers of inflammation and oxidative stress: A systematic review and meta-analysis of randomized controlled trials. Phytother Res. 2019 Feb;33(2):253-262. doi: 10.1002/ptr.6226. Epub 2018 Nov 7. PMID: 30402990.
White CM, Pasupuleti V, Roman YM, Li Y, Hernandez AV. Oral turmeric/curcumin effects on inflammatory markers in chronic inflammatory diseases: A systematic review and meta-analysis of randomized controlled trials. Pharmacol Res. 2019 Aug;146:104280. doi: 10.1016/j.phrs.2019.104280. Epub 2019 May 20. PMID: 31121255.
Vallianou N, Tsang C, Taghizadeh M, Davoodvandi A, Jafarnejad S. Effect of cinnamon (Cinnamomum Zeylanicum) supplementation on serum C-reactive protein concentrations: A meta-analysis and systematic review. Complement Ther Med. 2019 Feb;42:271-278. doi: 10.1016/j.ctim.2018.12.005. Epub 2018 Dec 7. PMID: 30670254.
Clinical Advisor.com. "Rosemary boasts cognitive and anti-inflammatory benefits"
Related Articles By Cathe:
5 Reasons to Add Spices to Your Diet if You're Trying to Control Your Weight