(Last Updated On: April 21, 2019)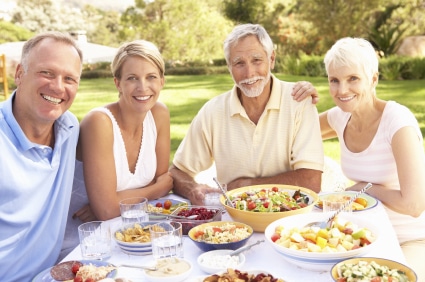 Whether you're trying to lose weight or maintain a healthy body mass index, you need strategies for creating quick, easy meals that satisfy your hunger as well as your nutritional requirements. Try these techniques to whip up a lunch or dinner that will leave you feeling great and moving toward your goals.
Suped-up Soup
There are many brands of lower-sodium, low-fat soups available on the market. Some quick additions can turn a can of soup into a hearty meal. Start with a soup of your choice, add some canned, rinsed beans and a cooked or fresh vegetable to add fiber, protein, and nutrients to your meal. (Veggies can be steamed in the microwave with a few tablespoons of water for 4-5 minutes while the soup heats up on the stove.) Add more of the beans and veggies that are already in the ingredients, or increase your meal's interest and complexity with unusual additions. Here a few ideas for combinations:
• Minestrone + Chick Peas + Spinach
• Chicken Tortilla + Black Beans + Corn
• Clam Chowder + Cannellini Beans + Celery
• Split Pea + Black-Eyed Peas + Carrots
• Chili + Pinto Beans + Tomatoes
Satisfying Sandwiches
Creative spreads and bread can add interest while fresh vegetable toppings turn your sandwich into a nutritional gold mine. Consider purchasing a Panini grill to add some bistro flair, or grill your sandwich in a pan with a heavy skillet laid on top to create the same effect. Mix and match these ingredients:
• Bread: rolls, bagels, or French bread with the insides scooped out, whole grain bread, rye or pumpernickel, high-fiber wraps, English muffins
• Spreads: low-fat mayo, hummus, pesto sauce, low-fat ranch or other dressing, salsa, bean dip, low-fat coleslaw, BBQ sauce, mustard, plain nonfat Greek yogurt, nut butter
• Protein: chicken breast, rotisserie chicken, deli turkey, ham, roast beef, low-fat pastrami or corned beef, soy deli meat, low-fat meatloaf, cooked shrimp, reduced fat cheeses, especially Swiss or mozzarella
• Veggies: sliced tomatoes, cucumbers, peppers, onions, avocado; sautéed or steamed asparagus, mushrooms, onions, eggplant, zucchini; fresh lettuce, spinach, arugula, watercress, sprouts
• Try also: apple slices, chopped nuts, sunflower seeds, sun-dried tomatoes; crumbled feta, Gorgonzola, goat, or bleu cheese.
Spectacular Salads and Pasta
The same combinations of proteins and vegetables can make a stellar salad or rib-sticking pasta dish. Bear in mind that a cup of cooked pasta will add around 200 calories, whereas leafy greens add only a negligible number. Choose whole-grain pasta for more fiber and staying power, and compare salad dressings for lower calorie content or try the range of salad dressing sprays available. Pasta can be sauced with a marina, a small amount of low-fat cream sauce (read labels) or just a splash of olive oil. A finely chopped garlic clove improves almost everything.
• Proteins: chicken breast, shrimp, scallops, lean beef strips, diced ham or turkey, low-fat sausage, cooked fish, scrambled egg, beans, tofu
• Vegetables: any and all including zucchini, peppers, broccoli, fennel, squash, green onions, artichokes, tomatoes, peas, green beans, cauliflower, bok choy
• Add-ons: parmesan, feta, or bleu cheese; chopped nuts such as peanuts, cashews, or pecans; crumbled bacon; seeds such as pumpkin, sunflower, or sesame
The possibilities for exciting, healthy combinations are endless, proving that you don't have to choose between fun, interesting food, and a healthy lifestyle. Experiment with different combinations to find the quick-cook solutions that work for you and make sure to check out all of our Healthy Recipes on our website for even more ideas.
Related Articles By Cathe:
Double Your Health Benefits With High-Protein, High-Fiber Foods
Are Mushrooms a Good Source of Plant-Based Protein?
Fiber and Appetite: Newly Discovered Reason Fiber Kills Your Appetite
5 Tips for Building Muscle When You Eat a Plant-Based Diet
What Type of Protein Keeps You Full the Longest?
Can You Consume Too Much Protein?