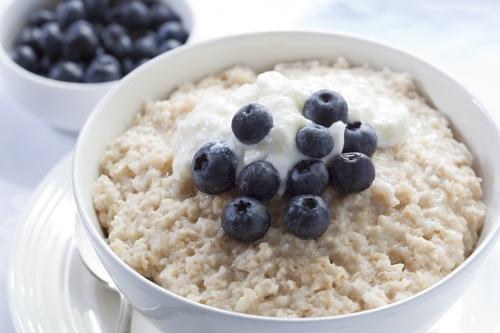 Yogurt is thought of as being a healthy breakfast or snack item. After all, it has bone-building calcium and protein – but not all yogurts are as healthy as you think. Some flavored yogurts are loaded with sugar, cancelling out some of the potential health benefits. On the other hand, if you choose wisely, you'll get calcium, protein and good bacteria called probiotics that keep your immune system primed and digestive system healthy when you eat a container of yogurt. But which do you choose? Here are some practical tips for choosing a healthy yogurt.
Avoid Yogurt with Added Sugar
Even plain yogurt contains some natural sugar, usually around 12 grams per 6-ounce container. When you see higher carb counts than that, dried milk powder or a carbohydrate filler has been added or it contains added sugar. Most flavored yogurts have added sugar, so it's best to stick with plain yogurt and use fresh berries to sweeten it. You can also stir in unsweetened peanut butter or cocoa powder for additional flavor and health benefits. Because yogurt contains active cultures, the carb count in the product may be slightly lower than what's listed on the label since the bacteria ferment some of the lactose. This reduces the carb content by as much as 25%. The take-home message? Stick with plain yogurt with no added sugar whenever possible.
Fat-Free Yogurts Aren't Usually the Best Choice
Fat-free yogurt sounds like the way to go when you're watching your calories, but it usually has significant amounts of added sugar. For example, one popular fat-free yogurt contains 33 grams of sugar per 6-ounce container, which earns it the status of dessert rather than a healthy snack.
Verify That It Has Active Yogurt Cultures
All yogurt starts out with live cultures. Live cultures are the probiotic bacteria that make yogurt so beneficial from a health standpoint, but some manufacturers treat their yogurt with heat. Heat destroys some of these healthy cultures and reduces the health benefits of yogurt. Make sure the label states that a yogurt has active cultures and that it doesn't say it was heat treated on the label. Otherwise you're not getting the full probiotic benefits.
Is Greek Yogurt a Better Choice?
Greek yogurt has grown in popularity recently, but is it really better for you? Greek yogurt has some advantages and disadvantages over regular yogurt. It's higher in protein, by as much as 7 grams. It's also lower in sodium. On the other hand, it has less calcium by a factor of 2 to 3 than regular yogurt. That's because Greek yogurt is strained to make it thicker, and straining removes some of the calcium. If you're eating yogurt for the calcium, regular yogurt is a better choice. Otherwise, Greek yogurt with its higher protein content is your best bet.
Other Ingredients in Yogurt to Avoid
Look for yogurt that doesn't contain the controversial sweetener high-fructose corn syrup, and avoid yogurt that contains artificial food coloring. One with a short list of ingredients is less likely to contain unhealthy ingredients you don't want. If possible, choose organic yogurt. Organic yogurt comes from cows that haven't been treated with chemicals, antibiotics or hormones. That's important when it comes to your health.
The Bottom Line?
A cup of yogurt is a satisfying snack and a good alternative to dessert, but use these tips to make the right choice when buying yogurt. It could save your waistline.
References:
USProbiotics.org "Products with Probiotics"
Self Nutrition Data
Tags: cocoa powder, good bacteria, healthy breakfast, healthy snack, natural sugar, plain yogurt, probiotic bacteria, yogurt cultures, yogurts