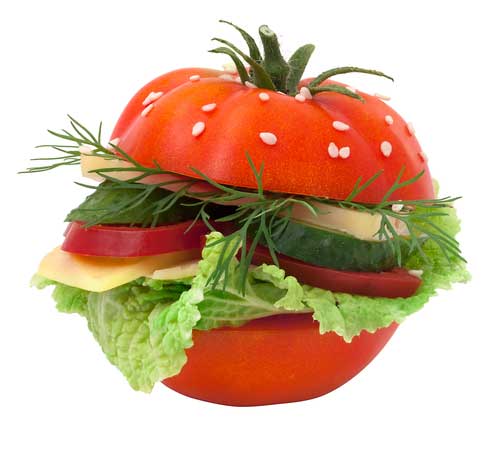 Curious as to what's new and trendy in the world of healthy eating? Every year market researchers and nutritionists look at what's new in the food and beverage industry.  One place they get information is by attending IFT 2015, a trade show for the food industry. It's always fun to see what you might see on supermarket shelves in the upcoming year or two, but keep in mind eating healthy is anything but a fad. It's a commitment you make for life and for your health. Now let's see what's hot in nutrition right now.
New Trends in Healthy Eating: Turn Up the Heat with Ginger
Ginger, long known for its role in easing nausea, is on a roll and is making its way into a variety of beverages, especially teas. Expect to see more bottled teas with ginger as a main or secondary ingredient. No wonder!  Research suggests that ginger has activity against a variety of cancer cell types, including ovarian, pancreatic, and breast, thanks to active ingredients in ginger called gingerols. Ginger-derived gingerols also have anti-inflammatory and anti-bacterial properties.
You don't have to buy bottled tea to enjoy the health benefits of ginger – why not make your own cup of hot ginger tea? Simply place grated ginger into a mug and fill the mug with boiling water. Let it steep for 8 to 10 minutes and strain. Don't forget to add ginger to your favorite recipes too.
New Trends in Healthy Eating: The Power of Tumeric
Tumeric is one component of the spice curry.  The active ingredient in turmeric called curcumin is currently the focus of research looking more closely at its health benefits. One of the strongest health benefits of this woodsy spice with the bright orange color is its ability to reduce inflammation. In fact, turmeric blocks the same enzymes that non-steroidal anti-inflammatory medications (NSAID) do – but without the side effects. One study showed turmeric was MORE effective than an NSAID for alleviating rheumatoid arthritis symptoms.
Expect to see a variety of bottled beverages hit store shelves with turmeric as an ingredient. Like ginger tea, you can make your own turmeric tea at home. Boil four cups of water. Add a teaspoon of turmeric and cook on low for 10 minutes. Then filter the mixture. Use a little Stevia to sweeten it.
New Trends in Healthy Eating: Plant-Based Protein
More people are looking for alternatives to animal-based protein for health purposes, concerns about animal welfare, and for environmental reasons. Expect to see more packaged "meat" products made from soy, whole grains, and beans. Watch out for packaged, meat alternatives. Some are highly processed, made with ingredients like texturized vegetable protein and processed soy.  Instead, expand your non-meat alternatives with tempeh, a fermented form of soy with a meat-like texture or grab a recipe online and make your own quinoa or lentil burgers. Beans, lentils, nuts, and whole grains like quinoa are all good ways to diversify your protein intake without eating something processed.
New Trends in Healthy Eating: Growing Interest in Organic
Many Americans think organic foods are nutritionally superior. Not necessarily. Most research shows organic and non-organic produce contains roughly similar amounts of most key nutrients, some studies show organic produce has higher levels of antioxidants, as much as 20% to 40% more. Whether organic is nutritionally superior is still debatable, but what makes organic produce beneficial is the fact that it isn't sprayed with pesticides. Realizing this, the demand for organic is going through the roof and suppliers are having a hard time keeping up with it. Check out sources of produce close to home where you can talk to the grower about their use of pesticides.
 New Trends in Healthy Eating: Natural Sweeteners
Now that people are informed about the health effects of a high sugar diet, they're looking for an alternative to occasionally indulge their sweet tooth. Artificial sweeteners are falling out of favor after news came out that artificial sweeteners may alter gut bacteria and contribute to metabolic issues like insulin resistance. Expect to see more natural sweetener alternatives hit the market. One relatively new option, monk fruit, is reaching store shelves and Stevia-based sweeteners also remain popular.
One caveat – a sweetener isn't necessarily healthy just because it's natural. Agave nectar is marketed as a healthier sweetener alternative but some versions contain MORE fructose than high-fructose corn syrup. Consuming a diet high in fructose is linked with elevations in triglycerides and fatty liver, based on some studies. Other natural sweeteners like honey and maple syrup can have a significant impact on your blood sugar and have almost as many calories as sugar. Choose your sweeteners wisely and try to wean yourself off of sweet-tasting foods and beverages.
New Trends in Healthy Eating: Fermented Foods
With the growing awareness that gut bacteria may impact health in a number of ways, including our body weight, more people are trying to get their probiotics. What better way to do it than naturally from food sources? Fermented foods are growing in popularity, everything from kimchi, a type of fermented cabbage, sauerkraut, kefir, kombucha, tempeh, miso, and, of course, yogurt. Supplying your gut with a diversity of bacteria may help digestive health and support your immune system.
Other Trends
Other food and nutrition trends that are hot include bone broth, grass-fed dairy, ancient grains, and sprouted foods. Expect people to embrace previously undiscovered veggies like jicama, celery root, kohlrabi, taro root, and rutabaga. Any trend that encourages people to eat more vegetables is a good one! As far as restaurants go, expect more to jump on the "natural" bandwagon, although the FDA doesn't clearly define what that word means.
Rather than hop on the latest food trends, make sure you're eating a diverse diet of mostly whole foods. Some trends like organic produce and plant-based protein are here to stay, and you can never grow wrong adding more healthy spices to your diet, including ginger and turmeric. Eating healthy doesn't have to be boring or restrictive – you have tons of healthy, whole food options to choose from!
References:
University of Maryland Medical Center. "Ginger"
Mini Rev Med Chem. 2014 Apr;14(4):313-21.
Phytother Res. 2012 Nov;26(11):1719-25. doi: 10.1002/ptr.4639. Epub 2012 Mar 9.
Yonsei Med J. 2006 Oct 31; 47(5): 688-697.Published online 2006 Oct 31. doi:  10.3349/ymj.2006.47.5.688.
BMC Complement Altern Med. 2007; 7: 44.Published online 2007 Dec 20. doi:  10.1186/1472-6882-7-44
Tumeric for Health. "Brew a Cup of Tumeric Tea"
Food Navigator – USA.com. "Trend Watching at IFT 2015"
The Salt. "Are Organic Vegetables More Nutritious After All?"
Nature 514, 181-186 (09 October 2014) doi:10.1038/nature13793.
Today's Dietician. Today's Dietitian Vol. 17 No. 1 P. 18. January 2015.
Related Articles By Cathe: