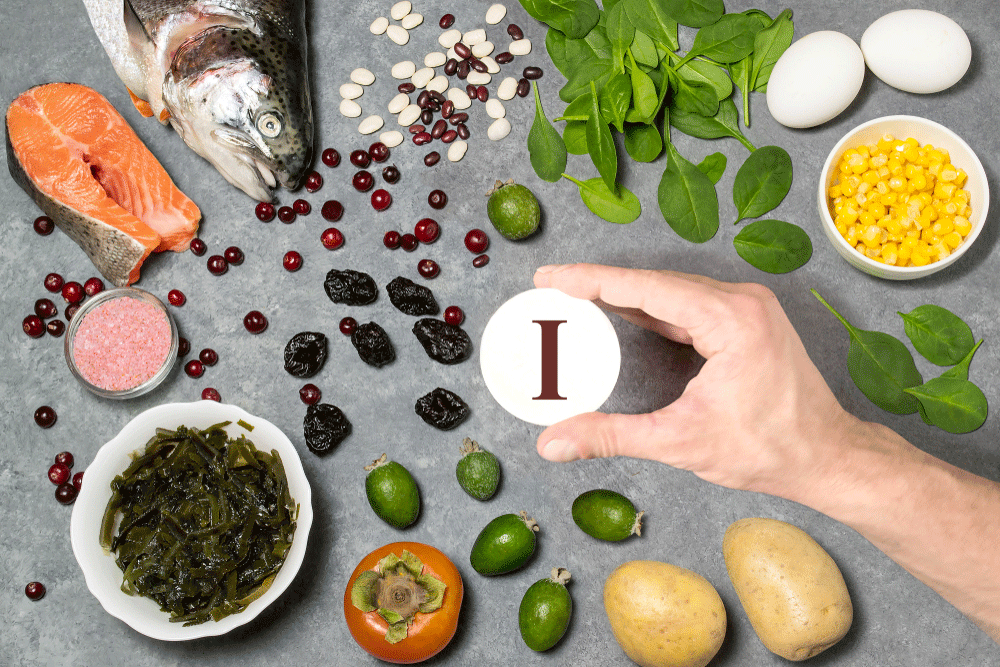 You may have read that iodine is important for health and for a healthy metabolism. That's true! Your body produces thyroid hormone by attaching iodine to the amino acid tyrosine and the thyroid hormone it makes directly impacts your metabolic rate. Based on this, some sources say that you need more dietary iodine than is currently in the American diet to support a healthy metabolism. Is there any truth to this idea? Let's look at why iodine is important and how likely you are to suffer from iodine deficiency.
Iodine and Thyroid Function
As mentioned, iodine is used to make thyroid hormone, and thyroid hormone determines how rapidly your body burns energy, but the directive to make thyroid hormone comes from higher up, from your brain.  A hormone called TSH produced by the pituitary gland tells the thyroid gland, a butterfly-shaped gland in your neck, to make thyroid hormone. Assuming there's enough iodine available, your thyroid makes thyroid hormone in response to TSH. But, what if there's not enough iodine? An iodine deficiency would lead to reduced thyroid hormone and a slowing of metabolic rate. In response, the thyroid gland, in an attempt to make more thyroid hormone, may enlarge, a condition known as goiter.
Based on this, we know that a deficiency of iodine can cause your metabolism to slow. How common is iodine deficiency? Worldwide the incidence is rather high, around 33%, but in the United States, iodine deficiency is uncommon, probably because most Americans use table salt which is iodized and contains iodine. Unlike other countries, there's also sufficient quantities of iodine in American soil. Prior to iodization of salt which began in the 1920's, iodine deficiency was more common than it is now, but now iodine is widely available in table salt. Plus, in the United States, dairy foods are also a good source of iodine as is bread due to the use of iodate dough conditioners. So, for the average American who eats a varied diet, iodine deficiency is not typically a problem.
Is More Iodine Better?
Since iodine is important for making thyroid hormone, you might wonder whether you need more of it in your diet "just to be sure." Unfortunately, iodine is a double-edged sword. While you need a certain amount to make thyroid hormone, more isn't better. In fact, too much iodine can impede thyroid function and lead to the same problem as too little. In other words, there's a "sweet spot" for iodine intake. So, how do you strike a balance? The recommended dietary allowance (RDA) for iodine is 150 micrograms. Furthermore, studies show that the average American already gets 600 micrograms per day, more than enough to optimize thyroid hormone production.
Are There Certain Groups at Higher Risk of Iodine Deficiency?
Who is at risk of iodine deficiency? Women who are pregnant are at higher risk of falling short on iodine as are those who are breastfeeding. Women who are pregnant or breastfeeding also have higher iodine requirements. During pregnancy, you need a minimum of 220 micrograms per day and when breastfeeding 290 micrograms. Vegans are also at higher risk since they don't consume dairy products, a major source of iodine in the American diet. Unless you fall into one of these categories, you probably getting more than enough iodine for your thyroid to function normally.
Some Foods May Affect Iodine Absorption
Do you eat lots of raw vegetables? We know that raw veggies are healthy, but some of these healthy foods contain goitrogens, particularly cruciferous vegetables, like broccoli. Brussels sprouts, cabbage, kale, watercress, and cauliflower. If you eat large amounts of these vegetables raw, it can reduce the amount of iodine your thyroid has access to. That's because goitrogens bind to iodine and keep it from reaching your thyroid gland. Fortunately, cooking these veggies significantly reduces goitrogen activity. So, consider eating some of the cruciferous vegetables you consume cooked rather than raw. Keep in mind that most experts believe you'd have to consume a large quantity of these vegetables raw to have an impact on thyroid function, so don't let it scare you away from eating your cruciferous veggies! They have too many health benefits.
If you have an under-active thyroid you may want to avoid raw, cruciferous vegetables entirely and enjoy them cooked instead. But, for the average person with a normal thyroid, raw vegetables are unlikely to be a problem. Where you could encounter problems is if you juice or drink lots of kale or broccoli smoothies since you need lots of cruciferous vegetables to make a glass of juice and you consume the vegetables raw.
What if You Need More Iodine in Your Diet
If you eat a vegan diet, devoid of dairy, and don't consume iodized salt, your risk for having a sub-optimal iodine level is higher. How can you get more? Sea vegetables are one of the richest sources of iodine. The sea vegetable with the highest concentration of iodine is kelp. In fact, the iodine concentration of kelp is so high that you shouldn't consume it every day. That's because kelp has a whopping 2,984 micrograms of iodine per serving! So, enjoy it in moderation.  Another sea vegetable called dulce has far less iodine, around 72 micrograms per serving and is a safer bet if you already get enough iodine in your diet. Sea vegetables are a good source of other minerals as well.
The Bottom Line
You need a certain amount of iodine in your diet for optimal thyroid function – but it is possible to get too much. So, don't go overboard and eat large quantities of kelp or, even worse, take an iodine supplement based on something you read online. With iodine, it's about balance – not too little and not too much.
References:
Pediatrics June 2016, Volume 137 / Issue 6.
Endocrine Web. "News Update: Can Kale Cause Hypothyroidism?"
Thyroid. 2006;16(10):949-951.
National Institutes of Health. "Iodine"
Related Articles:
Thyroid Health: How to Keep Your Thyroid Gland Healthy