(Last Updated On: February 9, 2019)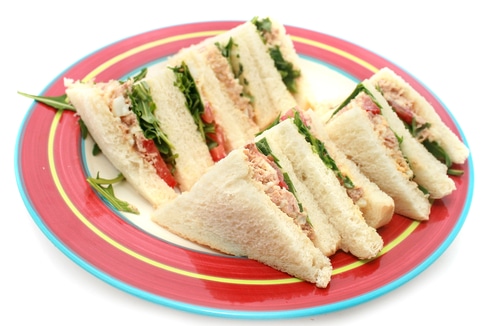 Tuna sandwiches are a classic snack. It can be easily considered one of the earliest forms of fast-food before companies like McDonald's and Burger King were even ideas. Now, even weight loss and fitness fanatics can enjoy it as a snack with this recipe.
Let's get started with making your healthy tuna patty. You'll need the following ingredients.
• 1 Eggland's Best egg
• Cooking Oil
• A can of tuna
• Bread of your choice
• And the hot sauce of your choice
You'll also need the following tools.
• Frying pan
• Spatula
• Can opener
• A mixing bowl
• Spoon for mixing
Once you've gotten all of these ready, you're prepared to make your healthy tuna patty. Don't fret, it's actually pretty easy. "Vidalia Onion and Peach Hot Sauce" is a fine option if you don't have a favorite brand of hot sauce. Each teaspoon of it comes with:
• Calories: 10
• Fat: 0g
• Carbohydrates: 3g
A teaspoon or two should do the trick nicely. As for the bread, you may want to try "Nature's Own Multi-Grain Sandwich Rounds." It's a fantastic option if you can get it. Each roll comes with the following:
• Calories: 100
• Fat: 1g
• Protein: 4g
• Sugars: 3gz
• Dietary Fiber: 4g
• Carbohydrates: 21g
• Sodium: 180mg
Step 1: Preparation
Now, preheat your pan. You'll want it at the same heat you cook your eggs. Since you're using canned tuna, the heat from the pan is there just to cook the egg, which will hold the patty to together. Mix the egg, the tuna, and your choice of hot sauce together in the bowl. When it's ready, it'll look like an uncooked beef burger patty.
Now put some oil on the pan. Not too much. You'll only need enough to get the pan wet and to keep the patty from sticking to it.
Step 2: Cook the Patty
Once the pan is heated to your liking and your mix is ready, you're all set to start cooking the patty. Scoop your tuna mix out of the bowl and put it in the frying pan. Use that spatula to press it down to form a solid and circular patty. Keep an eye on it, as it'll cook fairly quickly. Remember that you're only there to cook the egg, so it'll only take as long as it usually takes for you to cook one.
Step 3: Putting it Together
Now you've got your healthy tuna patty and healthy bread. All you need to do is to put it together. Once both sides are cooked, you're free to make your sandwich. These patties are fine cold, so if you like them, you can make a few and keep them in your fridge until you get hungry.
These patties don't have to be enjoyed in a sandwich. You can chop them up and enjoy them in a salad. You can also add tomatoes, lettuce, onions, and whatever else you want. It's a very open recipe.
Related Articles By Cathe:
The Metabolic Effects of Snacking
Is the American Diet Changing for the Better – or Not?
4 Ways Eating Nuts Can Help Control Your Weight
6 Pre-Workout Snacks to Boost Your Energy Level