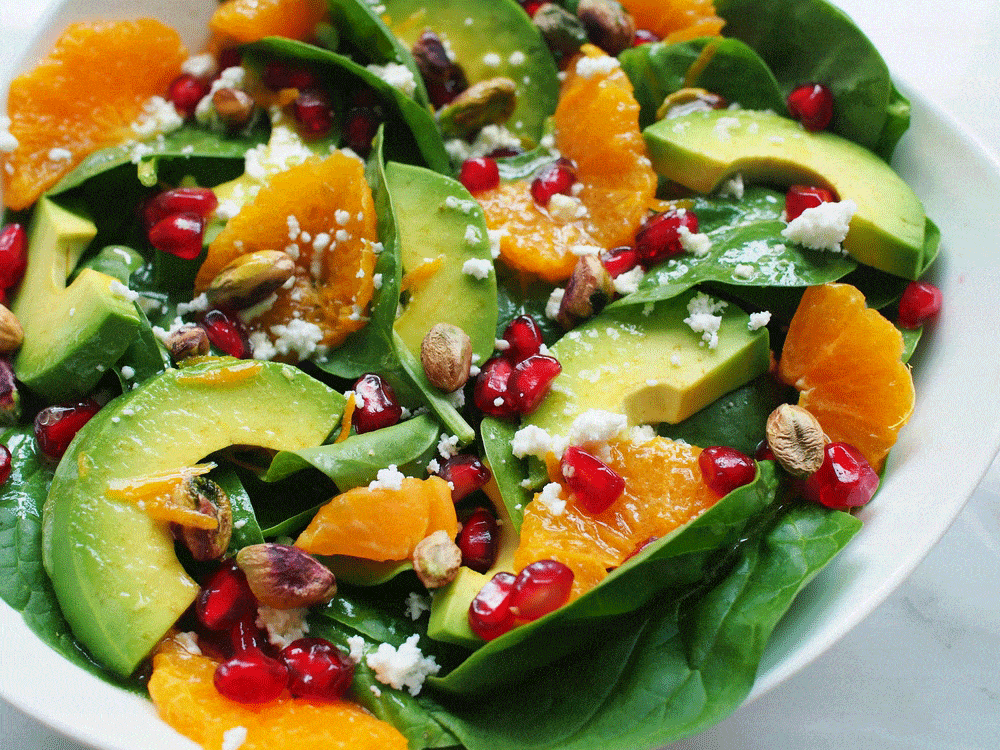 There's no doubt that avocados are one of the trendiest foods these days. But there's a reason this fruit is so popular: it's packed with nutrients and tastes creamy and delicious.
Avocado is a delicious, nutritious, and versatile fruit you can use in so many ways. And why should avocados be on your plate? Avocados are rich in monounsaturated fats. "good" fats that can help improve cholesterol levels and lower your risk of heart disease. Studies show avocados are beneficial for cardiovascular health and weight management too.
Avocados are also a reliable source of fiber, which can help keep you feeling full and help regulate blood sugar levels. Plus, avocados are one of the few fruits that contain substantial quantities of protein.
In addition, avocados are rich in vitamins and minerals, including potassium, vitamin C, and vitamin E. They even contain phytonutrients, including carotenoids, which benefit eye health.
What's Your Favorite Way to Eat Avocado?
From guacamole to sandwiches, avocados are a tasty addition to any meal. While you can eat avocado as is, it's fun to get creative with this versatile food. You can add its nutritious goodness to dips and spreads, or salads, sandwiches, and other dishes. The options are endless! Let's look at some ways to add avocado to your recipes.
Avocados are a mayonnaise alternative
If you're looking for a fantastic way to add healthy fats, fiber, carotenoids, and vitamin E to your diet–or just have an insatiable craving for something creamy–avocado is your answer. You can use avocado in place of mayonnaise in recipes. Avocado is also a nutrient-dense substitute for mayonnaise when making dips too.
Why would you want to? Avocado is more nutrient-dense than mayo and contains heart-healthy fats that mayo doesn't. Although you can buy prepared avocado spreads and dips, they don't have the nutrients that the whole avocado does. Just mash avocado and add salt and pepper to taste.
Spread your toast with avocado rather than butter
Avocado toast is the hot new breakfast trend, but it's not just for breakfast. You can spread avocado on toast or bread in place of butter for lunch or a light dinner too. Avocado has healthy monounsaturated fats, unlike butter, which contains mostly saturated fat. Spread some on whole wheat bread and sprinkle with sea salt before popping it in the toaster oven. Top it with tomatoes, spinach, or other veggies for extra flavor and nutrition. You can also mix avocado with sour cream or hummus if you want something lighter or spicier.
Other ideas:
Avocado toast with tomato, roasted red pepper, and basil
Avocado toast with eggs and cilantro
Avocado toast with black beans, corn, and cotija cheese
Experiment and discover your favorites!
Add avocado to wraps and sandwiches
Include avocado in your next healthy wrap or sandwich. Wrap sandwiches are an effortless way to add more leafy greens to your diet but add a slice of avocado too. You can even make guacamole sauce from avocados and use that as a sandwich spread. Just spread guac on the inside of your tortilla before adding the ingredients you desire (think black beans and chicken breast for a Mexican vibe). You can add avocado or guacamole to almost any sandwich or wrap for a creamy burst of flavor.
Make avocado desserts
Many people are using avocados to create healthier versions of their favorite desserts, and you can too. Examples include avocado ice cream, chocolate mousse made from avocado, and avocado chocolate milkshakes. You can find various recipes online for creating a nutritious and delicious avocado dessert that's guilt-free.
Upgrade your salads.
Upgrade your next salad with avocado. Although there are endless possibilities, the combination of the juicy, creamy avocado with leafy greens is a must-try. Use any fresh spinach, kale, or other leafy green you prefer and avocado slices. Plus, the healthy fats in avocado will help you better absorb the beta-carotene from the salad veggies. Embellish your salad further with sliced radishes, cherry tomatoes, or even your favorite fruit, along with your favorite salad dressing.
Stuff an avocado half.
Stuffed avocados are a delicious way to enjoy this green fruit in a new way. You can fill an avocado half with meat, veggies, cheese, or even fruit. They are creamy and rich in nutrients and make an amazing appetizer or meal. Here are the basics:
– Slice an avocado in half and remove the pit.
– Remove the flesh from half of the avocado and place it on a plate or cutting board.
– Mash the avocado with a fork until it forms a paste-like consistency. Add salt and pepper to taste (if desired).
– Fill each half of the avocado with your favorite ingredients–cheeses, nuts, or sauces like salsa or guacamole.
Sip an avocado smoothie
Avocados add creamy deliciousness to smoothies. Try this quick smoothie:
You'll need:
½ avocado, peeled and pitted
1 banana, peeled and sliced into chunks
4 ounces unsweetened vanilla almond milk or water (optional)
Directions: In a blender, combine all ingredients until smooth. Add more liquid if needed. Pour into glasses and serve immediately.
Conclusion
The best part about avocados is that you can use them in so many ways. Avocados are healthy foods packed with essential nutrients like monounsaturated fatty acids and vitamin E. They're even beneficial for your skin and hair. How about an avocado smoothie after a workout?
You can even create your own avocado recipes Avocados are an excellent source of healthy fats, vitamins, and minerals, so there's no reason not to enjoy them. From sandwiches to smoothies, they taste great and are easy to add to your diet. What's your favorite way to eat avocado?
References:
Dreher ML, Davenport AJ. Hass avocado composition and potential health effects. Crit Rev Food Sci Nutr. 2013;53(7):738-50. doi: 10.1080/10408398.2011.556759. PMID: 23638933; PMCID: PMC3664913.
"Enjoy avocados? Eating one a week may lower heart disease risk." 11 Apr. 2022, https://www.health.harvard.edu/blog/enjoy-avocados-eating-one-a-week-may-lower-heart-disease-risk-202204112725.
Related Articles By Cathe:
How Avocado Could Help You Fight Visceral Fat
How Avocado Could Fight Obesity and Why It Belongs in Your Diet
5 Powerful Reasons to Add Avocado to Your Diet
Summer Superfood: The Tasty, Health Benefits of Avocados
Avocados: Can One a Day Lower Your Cholesterol?
6 Nutritional Hacks to Get More Nutrients from the Food You Eat