(Last Updated On: November 5, 2012)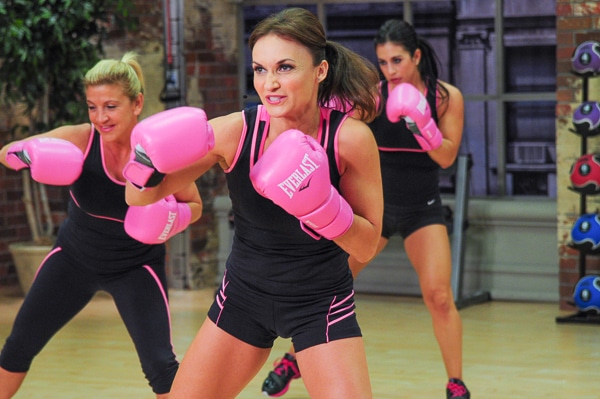 With over 100 Premixes Xtrain offers more workout options than any other workout series available today! This means you can easily select the workout that fits your needs and time schedule. We've already told you about the premixes in several of the workouts, but today we wanted to focus on one of the cardio workouts in this series – Hard Strikes.
We've now completed the editing for Hard Strikes (except for a few final edits) and wanted to share with you some details about this high energy Cathe workout. Hard Strikes is  based on Cathe's very popular evening class that she teaches here at her gym in New Jersey.  Hard Strikes is not your typical boxing video as it it blends boxing with high energy cardio – Cathe Style!
The regular Hard Strikes workout does not use a heavy bag, but we do offer numerous Premixes, which just like Cathe's live class, do make use of a heavy bag. Either way you will get a great workout! In the Hard Strikes Cathe and the crew wear 12 oz boxing gloves that are totally optional , but will increase the intensity and calorie burn of the workout.  If you're doing the heavy bag premixes you should definitely use gloves to protect your hands. A heavy bag workout can make a great low impact cardio alternative for those needing and preferring this type of a workout.
The workout times of Hard Strikes is as follows:  warm-up into the boxing 30:36,  conditioning— 11:56, Stretching — 4:05 – Total Time – 46: 32
Three heavy bag bonus tabatas— Total Time 12:56
We've now also completed most the editing of most of  the XTrain Bonus workouts and we will be adding these to some of the workout premixes we have already shared with you. As you can see from the Premixes  list below our Bonus footage, 100 Rep Challenges and premixes give you more workout options than any other workout series available today!
Here are the Premixes for Hard Strikes:
Hard Strikes + Burn Set Tri's
Hard Strikes + Bonus Core #1
Hard Strikes + Burn Set Tri's + Bonus Core #1
Hard Strikes + Bonus Heavy Bag (1 tabata)
Hard Strikes + Bonus Heavy Bag (1 tabata) + Bonus Core#1
Hard Strikes + Bonus Heavy Bag (1 tabata) + Burn Set Tri's
Hard Strikes + Bonus Heavy Bag (1 tabata) + Burn Set Tri's + Bonus Core#1
Hard Strikes + Bonus Heavy Bag (2 tabatas)
Hard Strikes + Bonus Heavy Bag (2 tabata) + Bonus Core#1
Hard Strikes + Bonus Heavy Bag (2 tabatas) + Burn Set Tri's
Hard Strikes + Bonus Heavy Bag (2 tabatas) + Burn Set Tris + Bonus Core#1
Hard Strikes + Bonus Heavy Bag (3 tabatas)
Hard Strikes + Bonus Heavy Bag (3 tabatas) + Bonus Core#1
Hard Strikes + Bonus Heavy Bag (3 tabatas) + Burn Set Tri's
Hard Strikes + Bonus Heavy Bag (3 tabatas) + Burn Set Tri's+ Bonus Core#1
Hard Strikes (No Conditioning)
Time Saver (No Conditioning) + Bonus Core #1
Time Saver (No Conditioning) + Burn Set Tri's
Time Saver (No Conditioning) + Burn Set Tri's+ Bonus Core #1
This workout also includes  a Bonus 100 Rep Challenge for "Biceps"
You can learn more or Pre- order  XTRAIN now at:  Click Here