To learn more or to purchase any of our workout programs just click on the links below. You can also shop and purchase individual exercise DVDs  from most of our workout fitness programs listed below including our new XTrain workout program. Free worldwide shipping is offered on any DVD order shipped of $50 or more.
For over twenty four years we have been known for producing the highest quality exercise and workout  DVDs and videos in the industry. We offer one of the largest privately held fitness libraries in the world with over 200 fun and challenging workout DVDs to help you get the results you are looking for. You will surely find what you're looking for in the huge variety of exercise videos we offer. Our workout DVDs are known for their superior chapter menus and/or outstanding premixes that give you more workout options and control over your exercise routines than do nearly any other fitness DVDs.
As a Gym owner and certified instructor for more than 28 years Cathe Friedrich has taught more fitness classes than almost anyone. Her natural talent and years of teaching experience is what makes Cathe's DVDs so well respected and loved. Her Gym tested kick-butt workout programs bring you the same quality and intensity workouts that  her Gym members regularly enjoy in the privacy of your own home. So if you're ready to take your workout to new levels, click on the workout programs below to learn more.
2013 DVD Workout Series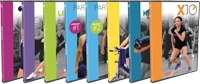 XTrain DVD Workout Series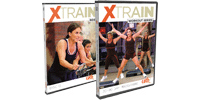 Low Impact DVD Workout Series

  STS  DVD Workout Series

 Shock Cardio  DVD Workout Series

Hardcore  DVD Workout Series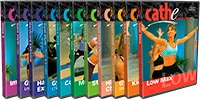 Body Blast  DVD Workout Series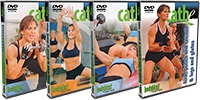 Intensity  DVD Workout Series

4-Day Split DVD Workout Series

Cross Train Xpress (CTX)  DVD Workout Series