(Last Updated On: April 1, 2019)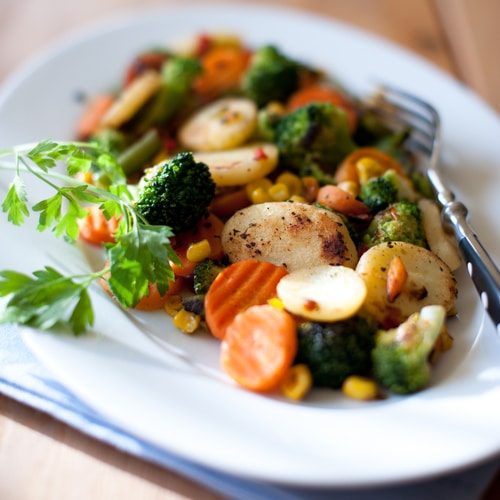 What's the main reason many people don't eat vegetables? They don't have time to prepare them. If you eat a portion of your meals out, getting hot vegetables can be a challenge too. Many restaurants serve potatoes as their vegetable of choice and offer little in the way of colorful vegetable side dishes. No wonder so few people get at least five servings of fruits and vegetables a day!
How many people are turning a blind eye to veggies? According to a report published by the Centers for Disease Control, most Americans eat vegetables a measly 1.6 times a day. Some states are better than others. Oregon and California top the list of veggie-eating states. Even these states only munch on vegetables on average 1.9 times daily. It's time to get more vegetables on the table! Here are some ways to get them there fast.
Prepare Veggies for a Few Days in One Session
Pay a visit to the Farmer's market on Saturday and choose your fresh produce. Instead of letting them sit on the counter or in your produce crisper for days, wash, prep and chop them right away. Make sure you have a sharp knife. It makes the job easier. After chopping, place them in bags and store them in the crisper to use over the next few days. To save even more time later, sauté them in olive oil and store them already prepared so you only have to warm them up and season them.
Roast Them
Another simple way to prepare vegetables you've already chopped is to roast them at 450 degrees F to bring out their flavor. Toss them with olive oil first to keep them from drying out. The high heat caramelizes them, bringing out their natural sweetness. Even veggie haters and kids can appreciate the taste of roasted vegetables. Root vegetables respond well to roasting. Green beans are a poor choice because they dry up and shrivel under such high heat. Roasting gets veggies on the table fast and will please even the pickiest of eaters.
Use a Food Processor
A food processor can reduce the time-consuming task of chopping vegetables to minutes. Attach the grating disc to create finely chopped veggies in short order. Food processors are a real timesaver when you have limited time to prepare a meal. Thank goodness for kitchen technology!
Make a Giant Pan of Vegetable Soup
Use the vegetables you chopped to make a huge pan of vegetable soup, enough to serve for at least a few days. It'll stay fresh in the fridge and you can even freeze a portion of it for later. Add a source of protein, if you wish, and make it a meal.
Buy Vegetables Already Chopped
Many supermarkets now sell packages of vegetables already chopped in the produce section. This saves times because you don't have to peel, trim or chop to get vegetables on the dinner table. It's a little more challenging to find organic vegetables already chopped, although natural food markets usually offer a small selection.
Another option is to buy frozen vegetables. Contrary to popular belief, frozen vegetables are usually more nutritious than fresh produce you buy at the supermarket. That's because they're frozen at their peak of freshness. This locks in their vitamins and nutrients. Each day that fresh produce sets on supermarket shelves, it loses some of its benefits. That's a good reason to buy more fresh produce locally. On the other hand, with the right preparation and seasoning, frozen vegetables are a taste-worthy substitute for fresh – no pre-prep required.
Keep Veggie Dips Handy
Guacamole dip, made from avocadoes, is a good source of heart-healthy, monounsaturated fats, carotenoids and phytosterols that help to lower cholesterol. Use guac as a spicier (and healthier) substitute for mayonnaise in chicken salad or on a sandwich. Combine it with chicken broth to make guacamole soup. Use it as a dip for raw vegetables. If you're limited for time, buy it ready made in containers at your local natural food store.
Don't underestimate the veggie-rich benefits of another common dip – salsa. Salsa is a good source of heart-healthy antioxidants called lycopenes. Even when you buy it already prepared, it contains little or no sugar. Use salsa in omelets, in soups or as a sauce or dip for hot or cold vegetables. It spices up a bowl of beans or lentils too. Place it on a piece of fish, sprinkle with a bit of grated cheese and bake. Use salsa as a low-sugar substitute for ketchup. These veggie-rich dips can help you add more vegetables to your diet without having to prepare anything.
When Eating Out
Always ask what vegetable alternatives a restaurant has. All the veggie options aren't always listed on the menu. Check out what comes with each entree. Often times a vegetable comes with a particular entrée but may not be listed as a side dish. Ask if you can order the vegetables separately. As a back-up, order a salad. Just don't choose the fries.
The Bottom Line?
Don't let time be the reason you don't get your veggie quota. There are lots of shortcuts to getting vegetables on the table. Plan them into your diet and into your life and enjoy the many health benefits they offer.
References:
Centers for Disease Control. "State Indicator Report on Fruits and Vegetables 2013"
World's Healthiest Foods website
Related Articles By Cathe:
What Are Phytochemicals and What Role Do They Play in Health?
5 Ways to Add Breakfast Vegetables to Your Diet.
6 Nutrition Shortcuts for Busy People