(Last Updated On: July 29, 2019)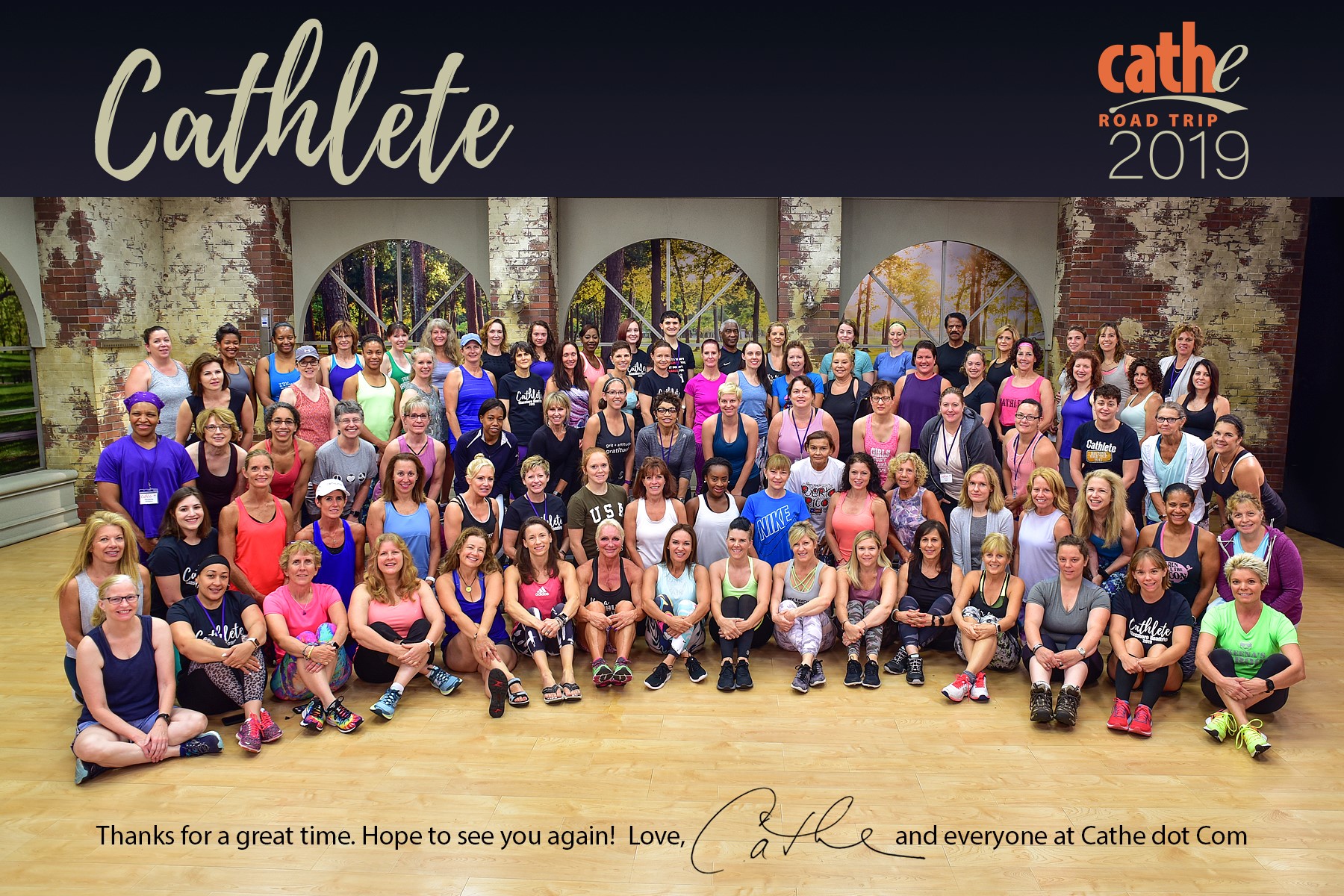 Hugs and high fives to all of our 2019 Glassboro Cathe Roadtrippers.  Yes, Cathletes, we've done it again! We not only survived an intense weekend of workouts, but we did it with strength and passion! I always say that each and every road trip holds a special place in my heart and this one not only met but exceeded my expectation!
So many new faces, so many familiar faces, so many laughs, so many amazing conversations! You came in and lit up the place with your positive energy and open, happy hearts! From the moment we hit the fitness room for our kickoff kickbox class to the last goodbye hug we were most certainly in this together! The sense of inclusion and community is even more apparent when we have so many first-time road trippers that are immediately welcomed in and embraced. We've built more than a fitness community, we've built a family and this means more to me than you know.
Reflecting back on our weekend's highlights it always amazes me how fast it flys by!!!  Friday afternoon we raised the roof with our infectious energy during our warrior status kickbox workout.  Then we had our first well earned delicious and nutritious meal during our meet and greet dinner with our new fabulous caterer (yum!!!).  I loved introducing you to the videocast members where we got so many memorable pics together.
The night concluded with a relaxing stretch…ahhhh!  Saturday morning the pace started bright and early with our group photo followed by our super fun step class which revealed a sneak peek at some of the choreography from the Step Boss Series!!!  A quick wipe down and water break before heading straight into our Live DJ cycle class where DJ Joe Vespe jammed party tunes under party lights!   Shortly after we had a much needed delicious lunch to refuel our hard-working muscles for part two of the afternoon which included a really great and intimate Q&A loaded with amazing questions.
Then it was off to our final workout of the day, LEG DAY LIVE!  We survived it (barely, lol) and now we have this fun, hard workout in our CatheLIVE library to remember forever.  But the day didn't end there. After a long hot shower, the busses brought you back for another delicious dinner followed by this year's new Mocktail Mingle Party which was an opportunity to chat, unwind and have an amazing time together! Many of you hopped into the photo booth for some fun pics and I loved getting to jump in there and be silly with you!  It was so nice to have such fun quality time together.
Sunday morning our alarms sounded bright and early so that we could tackle our last workout together where we finished off with our Cathlete community circle sharing some of our favorite moves from videos past!  So so fun!  Then came the hardest part of the weekend…our goodbye breakfast!  It's always so hard to say goodbye. It's amazing how quickly "real life" sets back in. We go back to our homes, families, jobs and we leave our fitness family behind. I understand the sadness and I always feel it too.
Thank you from the bottom of my heart for another amazing Roadtrip! Until we get the chance to meet again, I'll always be waiting for you behind that play button and I'll "see you next workout"!