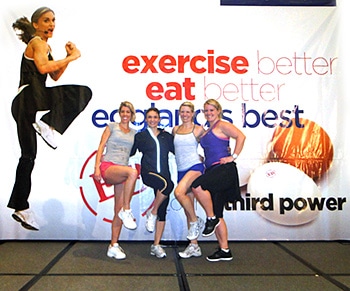 Thank You San Diego Road Trip Cathletes and our sponsor, Eggland's Best, for making the San Diego Road Trip a weekend to remember!
Here it is, one day past the San Diego Road Trip, with a red eye flight behind me, a nap and family reunion under my belt, and I still can't stop thinking about all the fun we had. I bet the Loews Coronado never had so many energetic fit women, and even a few awesomely tough men, "invade" their hotel with such vigor and enthusiasm. There wasn't a hotel employee that that didn't peek in our classes to see what all the Cathlete commotion and calorie burn was about. I know quite a few even stopped me to say they wished they had the energy to do that too.
Yes, we rocked the Coronado Resort and I can't thank you enough for sharing this excitement with me. From our kick off step workout, to our closing Boot Camp Beach workout, we never left any muscle un-touched, story un-told, smile un-detected, picture un-taken, meal un-devoured, question un-answered, and tear un-shed. I loved meeting each and every one of you and will forever keep the special stories you shared with me close to my heart. I cherish knowing that I have been a special part of your family for years, and that for many of you I have helped you though a very difficult time in your life. You have no idea how much it means to me to meet you in person and hear your heart felt stories and share your emotional tears. Road trips are finally MY chance to meet YOU and say thank you in person for allowing me to be such an important part of you healthy lifestyle. These trips are a dream come true for me and I feel so honored to know that you have taken such valuable time from you busy lives and in many cases even traveled far distances to come spend a weekend with me and fellow Cathletes to bond and share a memorable and inspiring weekend of fun, sweat and tears together. Thank You….. Thank You….. Thank You!!!!!
I'd also like extend my deepest appreciation and thanks to our sponsor Eggland's Best. Without their support, the Cathe Destination Road Trips wouldn't be possible. I am very proud to team up with Eggland's Best to help spread the word across America that their high quality eggs and my high quality workouts are leading Americans down the right path to better fitness, better nutrition, and better lifestyles.
Thank You too, to Altus, for providing a truckload of Fitness By Cathe steps and continuing to be the equipment sponsor for our Cathe Road trip events.
Another special shout out to all of the Cathe Dot Com staff for their endless hours in preparing for these events, as well as Cyndi Smith, our tireless Cathe community photographer, and Lorrayne Schaeffer (who some of you may know from our Glassboro Road Trips) for lending us a huge helping hand where ever and whenever needed on site. We can't thank you all enough for your time.
I adored reading the cards you gave me at the Saturday night dinner party and have put them in a special place with all of my keepsakes. One final thank you before I sign off for the night and a big group hug to go with it (((((((((GROUP HUG)))))))))
Love,
Cathe