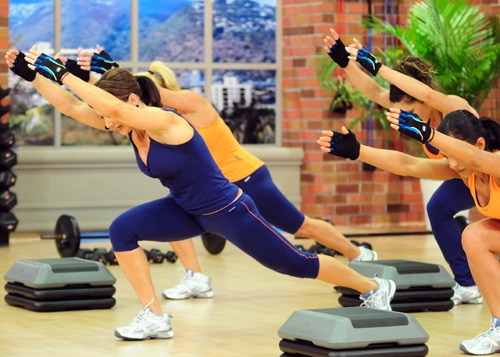 Just the name alone says it all so get ready to turn up the heat. Lower Body Blast has a great mix of both classic and new exercises, effectively sequenced, to keep the fat burning and muscles responding. Cathe keeps you moving from exercise to exercise in an all-out assault on your lower body. Your glutes and thighs will definitely be talking to you today, but even more so tomorrow!
Lower Body Blast is designed to focus on sculpting the lower body while keeping the body in fat burning mode. Cardio is not the main ingredient in this workout, it is an enhancer. This workout is based on one of Cathe's most popular classes at her health club in New Jersey. A high step, slide discs, dumbbells and a barbell are used in this workout.
Lower Body Blast opens with a warm up and a short cardio segment to get the body in fat burning mode. Then the focus shifts to lower body scuplting (concentrating on the large muslce groups of the legs to keep the body in fat burning mode). After every few exercises a cardio burst will be thrown in, which is similar to a one minute plyometric blast. This recruits more muscle fibers and makes the legs more responsive to the next round of exercises. This pattern goes on until the tape ends.
Two bonus segments were filmed for this workout, including floorwork with a Fitness by Cathe Firewalker and another unique segment using the STS Turbo Tower.