(Last Updated On: March 8, 2010)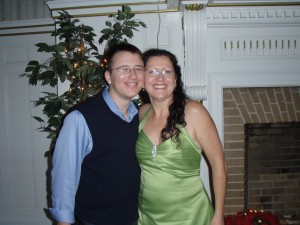 It's hard for me to believe that a year ago on February 9, 2009, I did my very first Cathe workout! After reviewing the multitude of workout DVDs available by Cathe, I settled on Cardio Fusion, Step, Jump & Pump & Step Blast and Ab Hits. I started with Cardio Fusion and it kicked my butt! I was bound and determined to complete the workout without stopping . . . how did I come to this?
Mine is a story like so many others. I struggled with my weight – constantly, basically yo-yoing all the way through to my 30's. I thought I found my focus at that time. I joined a gym and lost a lot of weight, got my body fat down below 20% and was in great shape! I became an aerobics instructor and later, a personal trainer. Things were good!
Then things started going downhill. I quit teaching and training, stopped working out and started gaining weight again. I became unhappy with my life and myself. I lost my appetite and slowly stopped eating until I was living off of coffee and a bite or two of food a day. My weight dropped down to an unhealthy 112 lbs. I was beside myself, but didn't know how to get out of the rut. I had hit rock bottom. My husband helped me through what was the worst time of my life, although at that time, we were not yet married. I started eating again, bit by bit, with his urging. My husband was a Marine and was due to move to Cherry Point, North Carolina. We got married and moved together. This became my fresh start with myself, or so I thought!
The best I could do while we were stationed in North Carolina was to walk about 3 miles a day after work on the running path on the base. Hey, it was better than nothing, right? Well, not quite. I wasn't able to make any real progress, so I bought a few weight plates, a set of dumbbells and tried working out at home in addition to walking every day. My self-motivation was nil. After two years in North Carolina, we moved again. My husband was leaving active duty in the Marine Corps and we decided to relocate to Rhode Island.
It was 2003 and here we were in a place where we didn't know a soul, but had a very positive outlook that this was going to be a good place for us! Time passed and I continued to gain weight – again. This time, it got really bad. I was at my highest weight since the mid-1980s! I knew I was getting heavy, but in denial as to how bad it had gotten. I wasn't able to keep up with my husband on our bicycles, having to stop all the time to catch my breath and push my bike up hills. We tried to climb Mt. Washington on an "easy" trail and I had to keep stopping every few yards because I couldn't catch my breath and my legs were screaming. It finally hit me how bad it was when I couldn't even get ½ mile in my rollerblades with a friend before my chest started hurting from being unable to breathe. That was it. I'd had enough!
There I was 153 lbs., out of shape, overweight, and 47 years old. Fine time to make up my mind about getting fit! Slowly, but surely, doing Cardio Fusion three days a week
and some ab routines, my weight started coming down. One day, I let the DVD keep playing to the end and saw the cathe.com ad. I went to the site and found the forum. What a discovery! I started reading posts and asking questions. I learned so much from so many Cathletes!
By the time I went to my niece's wedding in April 2009, I had dropped down to 137 lbs! It was very exciting! I even decided to try running! After reading The Eat Clean Diet book, based on the reviews of many Cathletes, I changed my eating habits, ordered a few more Cathe DVDs, and began the Couch to 5K training program.
By August, I had reached my goal weight of 125 lbs! I was bicycling uphill without any problems and able to run 3-4 miles at a decent pace! In November, I started STS with the original cardio rotation and am now in Mesocycle 2 and halfway through the 6-½ month rotation! I have never felt better in my life! I can keep up with my husband, made my first tandem skydiving jump, am fitter than ever at 48 years of age and getting stronger every day! I still have goals to meet and that's okay. That's what life is all about after all, isn't it? Setting and accomplishing goals and moving on to the next challenge!
My first year with Cathe has flown by and been more productive than any other year of fitness has ever been for me! Thank you, Cathe and all the Cathletes out there who have answered my annoying questions and who have been so motivating, inspirational and supportive! Without all of you, I could never have gotten this far! Most of all, I thank my husband for putting up with my complaints about my weight for so long before I got moving, for being supportive, eating healthy with me and for going running with my slow butt (compared to his pace anyway)! I am looking forward to more successes!
Happy Anniversary!