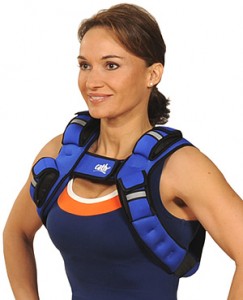 We received  our first shipment of many of the new Fitness by Cathe products today, including:
4 lb Weighted Gloves (2 lbs per Glove) –  Order Now!
– each glove can hold a maximum of four half pound weights for a total weight of 2 lbs
– Made from Neoprene and suede
-Comes in two sizes (small/medium and large/XL)
12 lb – 20 lb Adjustable Weight Vest –  Order Now!
– Eight 1lb weights to increase weight of vest up to 20lbs
– Quick release hook  and loop closure
– Comfortable form fitting design
– Reflective Stripes
– Adjustable Fit – One size fits most
Mini Step Mat – Order Now!
– Designed to fit the Original Health Club Step
– Ideal for travel
– 34 in x 14 in x 3/8 inch thick
– color: black
Firewalker Loops – Order Now!
– (3) 24 inch circular Stretch bands
– Light (coral), Medium (kiwi green), Heavy (blue)
– TPR non latex
Rainbow Yoga Mat –  Order Now!
– 24 in. X 68 in. Yoga Mat
– Soft, Lightweight Foam Mat
– No-Slip Surface Keeps Mat In Place
– Provides Barrier Protection
– Comes with carry strap
All of these new FBC products are now in stock and may be ordered from our ShopCathe website.