(Last Updated On: July 6, 2009)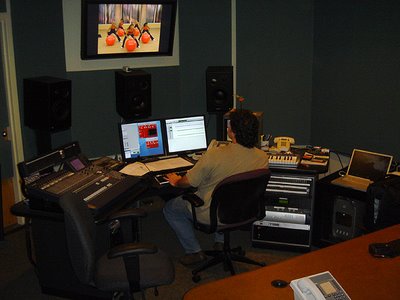 We've spent the last several days telling you about the workouts. Today, we thought we would tell you about some of the behind the scenes things that are going on now with the editing of the DVDs.
We finished filming late on August 29th and started early the next morning on the editing of the programs. Once a video has been filmed there are several steps that have to be taken before a master can be produced and sent to a DVD replication house to have the actual DVDs made.
The first step in the process is the editing of the raw video footage. This is where we assemble all of the footage and correct any mistake we find. We also will replace one camera shot with another shot if we feel the view is better. Credits and openings are also added to the video during this phase. Currently most of the videos are still in the editing phase, but Butts and Guts has already been finished and Body Max2 is nearing completion of the initial editing session.
The next step of the process is the Audio Sweetener edit session. This is the first time we've run our workouts through this extra process, but our goal is always to deliver the highest quality product on the market. The picture above is of Jeff Gordan working on the audio levels of Butts and Guts. Every frame in the video will have its audio level adjusted by Jeff so that there is a near perfect consistency in the audio level throughout the entire workout. We also used a different microphone for these workouts than what we've used in the past. You will notice that Cathe is wearing a visible microphone on the left side of her face. We tested several types of Broadway microphones and found this particular one to give the best sound for an active workout. No matter what position Cathe's head or body is in, the audio level will not vary. Butts and Guts finished its audio session with Jeff late on Friday and has now moved on to the next step in the production process.
Once Jeff has finished, a video copy with time codes is made for our review. Cathe and our staff will carefully review the video for any mistakes. Usually we will find a few minor things that have to be corrected and these are taken care of in another short edit session. At that point another proof is made and if everything is okay the video is then sent to the final phase called DVD authoring. We expect to start the DVD authoring phase sometime next week. We will have more about the DVD authoring in a later post, so keep checking back….