(Last Updated On: August 19, 2009)
Hi Everyone! Forgive my delay but here are a few pictures from my day on FOX Business that I am finally having a chance to post. I wished I had one with Tracy and Dagen, but obviously they were on air the whole time I was there. My day at FOX was such a fun and warm experience. Everyone at FOX really made me feel like a very pampered guest on their show. They were so kind and courteous in every way. They sent a driver to pick us up and take us home, provided wonderful security, and were exceptionally welcoming. It was an honor and a pleasure to step onto the set with Tracy Byrnes and Dagen McDowell, who btw, have great chemistry on their four hour show "Your Questions, Your Money" and talk about the making of my career. To know that Tracy was a fan was so great and heartwarming too.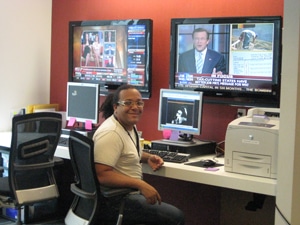 Here are a few pictures to share the fun I had. The one picture is of the green room where featured guests wait until it is their turn to go on air. This room also features the two FOX stations (FOX NEWS and FOX BUSINESS NEWS) on flat screens side by side so that you can see what is happening live on air as you wait your turn. Pictured here is Bismark, who did a beautiful job touching up my make up (thanks Bismark!) and you also see Tracy and Dagen (on the flat screen) doing their show live while I waited for the clock to strike noon. At 11:50am I was walked to another waiting room closer to the actual set location. At 11:55am I was mic's up and given a sound check and then walked through a maze of corridors before entering the actual live set. Before I knew it, the door was opened, I saw a sea of bright lights, and they said "right this way and please watch your step". The next thing I knew I was walking on the set and saw camera men everywhere. I stepped down into a very cool and cozy "pad" that, just as Tracy mentioned to me, was like the bottom of the bottle from the I Dream Of Jeanie show. A very cool circular sofa in bright red with Tracy and Dagen sitting there waiting for me. I think we had about a minute at the most to say our hello's for the first time, and then I heard a voice say 20 seconds, 15 seconds, 10 seconds, 5 seconds, and then Tracy and Dagen start talking live….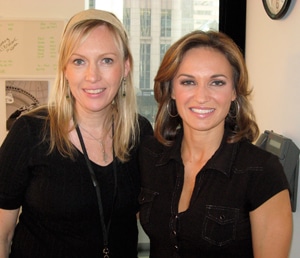 The other picture is of me with Anita, who touched up my hair, for the show. Great Job Anita! And the final picture was taken after the show, a relieved and relaxed Cathe, standing in front of the FOX NEWS office building in NYC.
Well, I hope you enjoyed reading about my experience as much as I enjoyed having it. Thank you Tracy, Dagen, and everyone at FOX, and as always, thank you Cathletes!!!!!