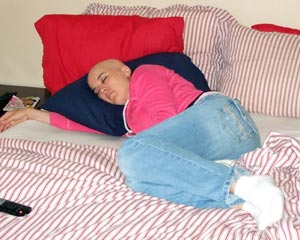 I have been a Cathe fan since 1997. I had been exercising at home for a couple of years and in my search for new instructors and workouts I happened across some posts about Cathe and how great her work outs were. I bought Getting in Shape for Your Wedding because I'd read it was a good one for people new to Cathe's work outs. I liked it a lot so I started buying more of her videos. She quickly became my favorite instructor and I began to actually like to work out. It was my time to do something for myself and I always felt better after exercising. When I first started working out I was 25 years old, with a husband and four children ages 5 and under, so I really needed that time. Over the next four years I had two more kids, and working out with Cathe really helped me to lose, and keep the pregnancy pounds off. I weighed around 117-119 pounds until I had my last baby. I gained the most weight with him and turned 30 two weeks after he was born, so I blame not losing the weight as easily and quickly on that! The best I could do was 125 pounds for a long time, which isn't bad, I'm 5'4″, but it's not my most comfortable weight. Over the past 11 years I have fluctuated between 132 and 119 pounds and that's because I'm not consistent with working out and eating right. I am doing better now though and in the past three months I've gone from 126 to 123, by working out with Cathe and tracking my food. Something I plan to keep up this time!
On March 19, 2009, I went to bed and woke up in an ambulance headed to the ER. I was told I'd had a grand mal seizure and needed to have a CT scan to find out why. The scan showed a very large mass (8.9×5.5x9cm) in the left frontal portion of my brain. It was so large it was pushing the midline of my brain 1.5mm to the right. I was transferred to another hospital where I had an MRI done and a PET scan to make sure I didn't have any other stuff going on in my body. Thankfully I didn't, the brain stuff was enough! I had a brain biopsy done so they could determine the grade of my tumor. It was determined that I had a Grade II Diffuse Astrocytoma. Because of where it was in my brain (the eloquent part) and the fact that it was diffuse (like a cloud or fog rather than having defined borders) they felt it was too risky to try and remove any of it. I did six weeks of radiation therapy and then nine months of oral chemotherapy. My hair started falling out about halfway throug h radiation and by August I had my husband shave off the rest. The day after that, my husband who is in the Air National Guard, had drill. My kids and I went with him and 10-12 guys in his unit, plus my husband and my two boys also shaved their heads. It was a happy day for all of us and it really lifted our spirits. But the tumor, the radiation and the chemo had all taken a toll on me, physically, mentally and emotionally. I was dealing with extreme fatigue, I felt worn down and totally unsure of what was going to happen next. But I had my big awesome family, wonderful friends and a strong faith in God that helped me get through those hard first months.
Soon I started feeling better and stronger and began to walk in my neighborhood. After months of doing that I thought I should try doing a Cathe dvd, so I did the easiest
one I have – Low Impact Step. I was so happy when I did the whole thing. I stuck with that one and other easier work outs for a while and continued walking often. For the past three months I have been doing advanced dvd's, such as, Drill Max, Body Max 2, Low Max, Low Impact Circuit, etc. Just recently I ordered and received 4-day Split and IMAX 2 + Cardio & Weights. I had C&W on VHS and loved it so I was happy when it went on sale in March. I'd also read a lot of positive comments about IMAX 2 so it was a win win situation for me! When I previewed IMAX 2 I was thinking I wasn't going to be able to get through the whole thing and I was worried that the time between intervals wouldn't be long enough for me to catch my breath. I decided to just push play for the whole workout and see how far I coul d get and I did the whole thing! I didn't even feel like passing out by the end of it! I was so proud of myself and I realized how far I had come from just two years ago.
I'm going to keep working out with Cathe – hopefully for many, many more years to come. At my last oncology appointment, my Dr. said my brain looked great and she thought I had as good a chance as anybody to live into my 80's or even longer. Originally my prognosis was not so hopeful; I had been told maybe I would be around for five or at the most ten more years. I like the sound of living until I'm 80 much better and will do my part to make that a reality! All of my doctors have encouraged me to keep exercising and challenging myself so in light of that advice I pre-ordered the new Low Impact Series along with Muscle Max and High Step Challenge and am looking forward to sweating my rear off and getting stronger with those new additions! Exercising has helped me in so many ways, not only in strengthening my body but also in helping my brain to heal through the release of all those endorphins.
Thank you Cathe for all the hard work and professionalism you put into making such high quality workouts for those of us who prefer or need to work out at home. I've never felt like I've needed to join a gym – I have you! You make me smile and sometimes even laugh out loud, especially when you do your happy dance near the end of IMAX2! Thank you for reminding me that I am a strong woman and I can accomplish great things.
Melissa