(Last Updated On: February 1, 2010)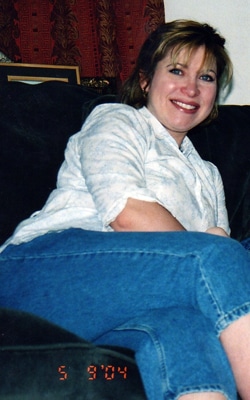 My success story involves not just myself, but three lovely ladies that have entered my life. Battling with secondary infertility for seven years, I found myself having my third child at age 35. With each of my pregnancies, I gained 50-60 lbs. By daughter #3, this weight was extremely hard to lose, and the thought of looking toned and muscular ever again was almost unimaginable.
Besides when I'm pregnant, I've always exercised to some degree, but I like a group setting. With three children, finding the right gym and a class format I'm looking for at a time I'd like to take it is like winning the lottery. With so much weight to lose, and so much physical work ahead of me, it was slow-going getting back into a routine.
One day I was flipping through channels on the T.V. and there was Cathe, doing a bicep workout. I sat straight up in my chair and said "Yes!". I knew right away that I loved her style – the duration of the work out and the level of intensity was what I had been looking for. The class had come to me! Soon my dumbbells were a constant fixture next to my T.V.
I then took the plunge and ordered a few of Cathe's dvd's. My number of dumbells increased and were soon stuffed under my bed, along with a barbell and plates and my step and risers. The exercise ball was a little harder to find a place for…but I knew I had to have one!
Now at 40 years of age, I work full time and sit at a desk all day. Going to the gym is even more impossible with my schedule, and hitting 40 I know I need to 'take it up a notch'. It's not going to get any easier but I won't back down from the challenge. Three months ago my husband, who's also very fitness oriented, finished a room in our basement and put in a home gym. I have it all now – the mirrored wall, dumbbells, bands, steps, risers, balls, and of course, my constantly growing Cathe collection.
Where I feel successful is knowing that my daughters witness my dedication to health and fitness each and every day by working out at home. I may not ever reach my fitness goal – I don't even know what that goal is, but I know in my heart of hearts I will never, ever give up on being as healthy and as strong as I possibly can be. I like knowing my daughters have learned that fitness is a way of life, plain and simple. They talk about when they're old enough to 'work out' and they like to see me make a muscle. They know their Mommy is strong, inside and out, and they'll carry that with them forever.
Thank you, Cathe, for offering the fitness routines that I love. I look forward to seeing you each and every day!