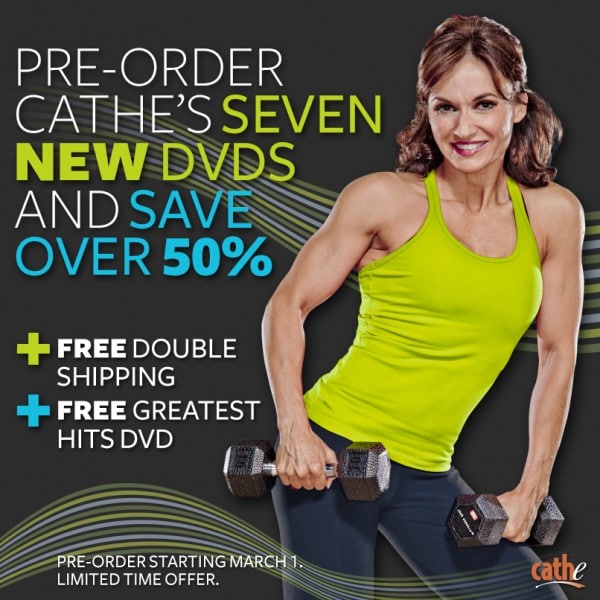 Breaking News Everyone! I'm excited to share with you my new workouts I have planned for 2013. Even more exciting is that we will be filming 8 new workouts that will be released on 7 individual DVDs.
The Pre-Sale for the new workouts will begin Friday, March 1st and here are some important details you should know:
 Great Savings
By Pre-Ordering Now you will save 50 to almost 70% depending on which discount bundle you select.
 Double Free Shipping
Get Double Free Shipping which means if you order any of our other in stock DVDs and/or qualified fitness equipment along with your pre-order, we will ship your current in stock items now worldwide for FREE. When your pre-order DVDs are available they will ship for FREE Worldwide too!
 Just an Additional $20 Gets You Both DVDs and Downloads
For just an additional $20 you can get both DVDs and Downloads when our Pre-Sale starts March 1st for my 7 new DVDs plus my Greatest Hits Vol 1 DVD. After the Pre-Sale ends it will cost you $160 to purchase these same downloads, so don't miss out on this amazingly low price opportunity to pre-order both DVDs and downloads!
 Get My Greatest Hits Vol #1 Video for Free!
Pre-Order my New Videos (6 or 7 discount bundle) during the Month of March and get my Greatest Hits Volume 1 DVD (or download) for Free. Cathe's Greatest Hits DVD will ship with your pre-sale DVDs when they are ready. Purchase of either the 6 or 7 discount DVDs or Downloads bundle is required for Free offer. Free offer starts March 1st and ends March 31st
About the New Videos
Rockout Knockout:  What do you get when you combine Kick, Punch and Crunch and Hard Strikes?  A ROCKOUT KNOCKOUT!!!   If you just got really excited reading that then this workout is for YOU!!!  Build up various kickboxing combinations "KPC Style" followed by various "Hard Strike Style" interval blasts for the ROCKOUT KNOCKOUT of your life.  Put some fun back in your fight with high energy kicks, jumps and punches guaranteed to make you come out a winner!!!.  Gloves are optional!
Pedal Power:  Think you've mastered all the elements of Cycle Max and RIDE and wonder "what's left"?  Well get ready to put the pedal to the metal and cycle your heart out with Pedal Power…. another hill pumping, heart thumping, speed jumping workout that leaves you soaked and spent.  Two water bottles and possibly even two towels are recommended to meet the demands of this workout!
X10:  Let me just say this once….You can do anything for 10 minutes!!!  Enjoy five 10 minute power packed workouts that are perfect for when you are either short on time, need a quick mid-day energy fix, want a finisher on an existing workout or love to string one, two or more of these workouts together to create the ultimate highly explosive workout.  Each 10 minutes will be a breathless mixture of power and strength with its own signature feel……on your mark, get set….GO (for 10 minutes!!!!)
 FLEXTrain:   A non-stop total body workout that mixes the concept of Supercuts with Power Hour.  Minimal equipment will be used to unleash your strength, endurance, and shapely muscles.  This will quickly become your favorite go-to workout when you want to feel like you've thoroughly worked everything from head to toe without using a lot of equipment to do it.
Party Rockin' Step:  Two party rockin' workouts in one DVD!  Let's hear all about this double crowd pleaser…..
Party Rockin' Step Workout One:
Who's up for some party rockin' steps ala Cathe style?  Are you wishing I would make a workout that put combos together like I did back in the day of Power Max and Rhythmic Step?  Something a little more steady state and less circuit-like?  Something more choreography driven and drizzled with doable fun footwork?   If so, then this Party Rockin' step workout is for you!!!
Party Rockin' Step Workout Two:
Ok, did you just read about Step Workout One and say "yikes, while I love a great solid step workout, I can't do all that tricky choreography. It makes me feel like I have two left feet."?  Well, good news…while  just as interesting and challenging as the first workout, this workout will be similar in choreography but with less fancy steps and more straightforward movement patterns.
Great Glutes:  Who doesn't want Great Glutes?  This workout focuses on the backside of the legs with the strongest emphasis on the glutes. A mix of new innovative glute exercises (research tested and approved) along with the most effective "best of the best" hamstring, glute and inner thigh exercises will leave you with the firmest rock bottom you could ever imagine!!!  I love how these exercises get in the deepest trouble spots and melt off all  the unwanted extra fat.  Minimal equipment will be used to get the job done.
Lean Legs and Abs: An action packed workout, Lean Legs and Abs is the perfect compliment to Great Glutes.  Lean Legs & Abs focuses on the front and outer thigh muscles of the leg with both innovative and traditional exercises.  The sequence is designed to keep the heart rate up while you incinerate your thighs.  Although all parts of the thighs are used in this workout, most of the emphasis is placed on the quadriceps and outer thigh muscles.  A special bonus barre segment (as well as a awesome ab segment) will also be included in this workout to totally toast your thighs….between Lean Legs and Abs and Great Glutes you will be ready for the "Rockettes"….
FAQ:
What will the music be like?
All of the music for the new workouts is being produced by the same company that made the music for XTrain, CrossFire and To The Max. We're once again doing "sound a likes" with every song selected by Cathe and custom created for each workout.
When will the new workouts be ready?
It's still too early to say for sure , but to play it safe our best guess at this point is anywhere from mid to late summer 2013. This is only an estimate and will be defined further as the project progresses.
Can I use coupons for the new workouts?
No, we never allow coupons to be used for our pre-sales as the items are already discounted. However you can use coupons on any of our current in-stock items with your pre-sale order. Any current items you order with your pre-sale items will ship now and in most cases will ship free worldwide. *see our free shipping details on shop.cathe.com
How are the DVDs packaged?
This is not a series so each DVD will come in an individual case just like all of our other single DVDs.
When will the Greatest Hits DVD Volume #1 ship?
Our free Greatest Hits DVD Volume #1 will ship when your pre-order DVDs ship.
Can I pre-order the individual DVDs?
Yes, you will be able to eventually pre-order any of the individual new workouts, but the savings will not be anywhere near the savings of ordering all of the workouts. In the beginning of the pre-sale we will only be taking orders for the discount bundles. We will not allow individual DVDs to be pre-ordered until later on. We do this to speed up the shipping process once the DVDs become available.
Do I get the free Greatest Hits Volume #1 DVD if I order the individual DVDs?
No, the free Greatest Hits Volume #1 DVD is only available if you order one of the discount bundles during the month of March.
Should I order DVDs or downloads?
It depends, each has its own advantages and disadvantages. But why not get both? During the pre-sale, all of the downloads cost only an extra $20 to add to your DVD order. After the pre-sale, downloads alone will cost you almost $160 (including Greatest Hits Volume #1).
Can I cancel my pre-order?
Yes, you can always cancel your pre-order up until 14 days before your order ships. However, if you cancel and then re-order you will not be allowed to cancel again.
What equipment will be used in the new workouts?
Once again, we keep the equipment to a minimum in these new workouts. The equipment you can expect to see (which varies per workout) includes:  a step, bands, dumbbells, barbell, discs, and stability ball. As always, workouts will go through many revisions between now and when we film and this means the equipment used in any video may change.
 Will the workouts have Pre-Mixes?
Yes, all of the workouts will have premixes. However, these will not be determined until after we have filmed.
How much do I save by Pre-ordering Now?
Your savings will depend on the discount bundle you select, but you will save anywhere from 50% on DVDs only to almost 70% on DVDs and Downloads.
How much will the pre-sale workouts cost?
DVDs Only:
6 pack DVD discount bundle (doesn't include Pedal power) – $79.97
7 pack DVD discount bundle (includes Pedal power) – $89.97
DVD plus Downloads:
6 pack DVD plus Downloads discount bundle  (doesn't include Pedal power) – $99.97
7 pack DVD plus Downloads discount bundle (includes Pedal power) – $109.97
Downloads only
6 pack Downloads only discount bundle (doesn't include Pedal power) – $69.97
7 pack Downloads only  discount bundle (includes Pedal power) – $79.97