(Last Updated On: January 5, 2020)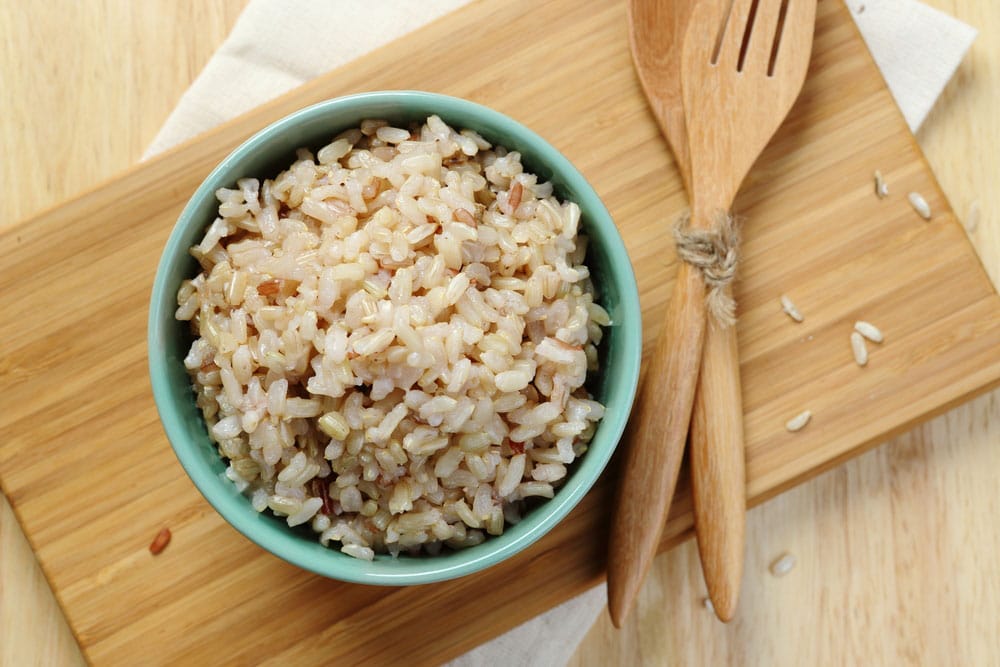 Dietitians, physicians, and non-health professionals alike encourage people to substitute brown rice for white rice in their diet. They based their advice on the common belief that brown rice is healthier than processed white rice. You might already know the difference between the two. Brown rice is the whole, unaltered grain while white rice undergoes processing.
Grains are made up of three components – the endosperm, a carbohydrate-rich portion that lacks nutrients, the nutritious germ, and the bran, the portion of the grain that has fiber. To make white rice, manufacturers remove the germ and the bran, leaving behind the endosperm, the most carbohydrate-rich portion of the grain, otherwise low in nutritional value. Because they remove the vitamins and minerals in the germ, they sometimes fortify white rice with synthetic vitamins and minerals so it retains some nutritional value.
Now you see why people consider brown rice to be healthier. It naturally has more vitamins and minerals, and it's higher in fiber. In contrast, white rice, without vitamin fortification, is rich in carbs and low in micronutrients. Brown rice seems to have an edge in terms of nutritional benefits.
Before loading up on brown rice and using it as a substitute for white rice in all of your dishes, let's dig a little deeper. Is brown rice a healthy alternative to white rice?
The Impact of Rice on Metabolic Health
You may have heard that brown rice is better for metabolic health. White rice, being so carb-rich and low in fiber, causes blood glucose spikes that aren't healthy and, over time, may increase the risk of developing type 2 diabetes. Is brown rice better for metabolic health relative to its white, processed counterpart?
On the plus side, studies show that the fiber in brown rice slows the rate of stomach emptying so that food enters the small intestine at a slower rate. This helps reduce blood glucose spikes after a meal. Fiber-rich meals also do this. That's one reason experts recommend consuming more dietary fiber.
Another study published in the British Journal of Nutrition found that switching brown rice for white rice reduced hemoglobin A1C (a marker of blood glucose control over the past three months) in those with metabolic syndrome and insulin resistance. Switching from brown rice to white rice also reduced one marker of inflammation modestly. Plus, the obese subjects in the study experienced a drop in total and LDL-cholesterol. So, the added fiber may improve metabolic health in people at higher risk of type 2 diabetes. Plus, some studies show that switching from white rice to brown rice helps with weight control and may reduce some risk factors for cardiovascular disease.
Not all research on brown rice and metabolic health is as optimistic. A study published in the Journal of Nutrition followed 202 adults with diabetes or at high risk for developing it for 16 weeks. During this time, the participants consumed either white rice or brown rice in unrestricted quantities. When they reassessed metabolic markers at 16 weeks, there was no significant difference between the two groups. Waist size, BMI, hemoglobin A1C, serum glucose and insulin levels were similar between the two groups. The subjects who consumed white rice experienced a greater drop in LDL-cholesterol while the brown rice group enjoyed a more pronounced reduction in diastolic blood pressure.
If you look at the evidence as a whole, consuming brown rice is somewhat better for metabolic health and may reduce some markers of cardiovascular risk. However, there are other health concerns about brown rice.
Brown Rice and Arsenic
Arsenic is an element in the soil that comes in organic and inorganic forms. Research links the inorganic form with certain types of cancer, including cancers of the lung, breast, and bladder. You breathe in low levels of arsenic and also get small quantities through diet and the water you drink. However, certain foods contain more arsenic than others and one of those foods is rice. Brown rice contains higher quantities of inorganic arsenic relative to white rice. Why might this be?
Rice plants absorb more arsenic from the soil than many other plants. Once they absorb it, the arsenic accumulates in the bran portion of the grain. Since manufacturers remove the bran to make white rice, brown rice contains more of this toxic compound. According to Consumer Reports, the quantity of inorganic arsenic in brown rice is enough that a single serving can exceed a child's safe intake for a week. Sources such as rice milk, rice syrup, and rice cakes often contain more inorganic arsenic than brown rice itself.
Why Not Substitute Other Fiber-Rich Foods for Brown Rice?
The fiber in brown rice is desirable but the arsenic isn't. Are there better alternatives? Other whole grains have as much or more fiber than brown rice with less arsenic. For example, quinoa is higher in fiber than brown rice and contains more protein too. In fact, brown rice contains three times the fiber and more than twice the protein of brown rice. It's also lower in carbohydrates. Other low-arsenic whole grains are millet and buckwheat. Plus, you can always use cauliflower rice, diced cauliflower instead of rice. You can make it home using a food processor or buy bags of frozen cauliflower rice.
The Bottom Line
Brown rice is gentler on your blood sugar and may be better for your longer-term metabolic health, but it's also high in arsenic, more so than other whole grains and most other foods. There's little risk of eating an occasional bowl of brown rice but don't eat it every day. Also, don't give it to kids daily. Instead, consider other options such as quinoa or cauliflower rice. Quinoa is more nutrient-dense than brown rice and cauliflower rice adds to your daily vegetable quota.
References:
Eur J Clin Nutr. 2018 Mar;72(3):367-373. doi: 10.1038/s41430-017-0003-z. Epub 2017 Oct 23.
Br J Nutr. 2019 Jun;121(12):1389-1397. doi: 10.1017/S000711451900076X. Epub 2019 Apr 22.
J Nutr. 2011 Sep;141(9):1685-90. doi: 10.3945/jn.111.142224. Epub 2011 Jul 27.
Int J Prev Med. 2014 Apr;5(4):478-88.
org. "How Much Arsenic Is in Your Rice?"
Related Articles By Cathe:
Nine Reasons Why You Should Replace White Rice With Brown Rice
Eleven Fascinating Health Benefits of Brown Rice
4 Types of Rice That Are Healthier Than White Rice
Healthy, Lower Carb Alternatives to White Rice, Potatoes and Pasta