(Last Updated On: June 26, 2009)
At first I was scared of Cathe. Those sculpted biceps! Those chiseled quads! Those heavy barbells! How could a mere mortal like me ever do her DVDs?
I was 210 pounds when I discovered Cathe in 2006. I'd spent the previous five years slowly transforming my body from a 350 pound couch potato to a fairly fit 5K runner and Body Pump addict. I'd made huge changes in my life – but then my progress was halted by a severe knee injury. My physiotherapist banned me from high impact cardio and lower body weights. I was miserable without my exercise endorphins, and worried I'd undo my hard work and never reach my goal.
Then a friend suggested I try Cathe's DVDs. I checked out the sample videos at Cathe.com. My Inner Fat Girl was intimidated by Cathe and her crew – they all looked so super fit and strong! But I was charmed by Cathe's warm and encouraging tones so I ordered the Pyramid Upper Body DVD.
My first workout was a killer. I watched Cathe's push ups with envy – I could only do mine against the wall because even the knee ones hurt my injured joint. And the pyramid-style of weight training got my muscles screaming, despite my wee five-pound weights. As I flopped into the Cool Down stretches, I was determined to improve!
Every week I slowly upped my weights. My Cathe collection increased too – Muscle Max, Boot Camp, Kick Max, Slow and Heavy, Kick Punch Crunch and the Gym Style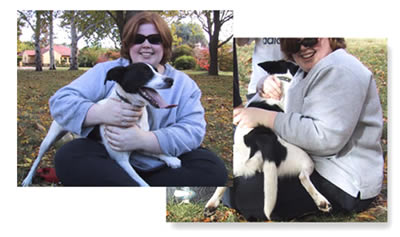 series. My home gym started as a set of 5 pound dumbbells stashed under the bed but they were soon joined by 10s, 12s, 15s, 20s, a stability ball, a barbell and an enormous collection of plates.
As my upper body strength improved the inches and pounds started dropping again. I'd been worried about loose skin after such a huge weight loss, but regular Cathe workouts helped tone my arms and waist. Cathe even helped with my knee rehabilitation – the Kick Max standing leg work and the Butts & Guts floor work allowed me to rebuild my leg strength without heavy weights. Soon I was strong enough to for lower body weights. I also took up kickboxing – inspired by my love of Kick, Punch, and Crunch – and now I'm training for my blue belt.
After three years of Cathe, I still do her DVDs two or three times a week. I'm down to 175 pounds – I've lost half my original body weight and maintained it for two years.Training with Cathe plays a huge role in that. Not only has my body changed, Cathe boosted my confidence and my determination to fulfill my potential. I don't listen to my Inner Fat Girl anymore – I know with patience and effort I can lift heavy and kick butt. Now when Cathe says its push up time I don't tremble with fear – I do them on my toes along with her crew!
I'm hooked on Cathe and a true convert to the joys of working out at home. It just makes so much sense:
You get the best trainer in the world in your own living room
Cathe's workouts can work for anyone – you don't have to be super buff to start! You can modify the workouts to suit your ability and/or any injuries
There's no more commuting to the gym – so much time saved!
You can lurk on the Cathe forums for training tips & inspiration
There's no excuse to skip workouts on rainy days – and we get a lot of those in Scotland!
You can work out in my pajamas – nobody will ever know!
Shauna Reid is an Australian lass living in Scotland. She is the author of the memoir The Amazing Adventures of Dietgirl and blogs at http://www.dietgirl.org