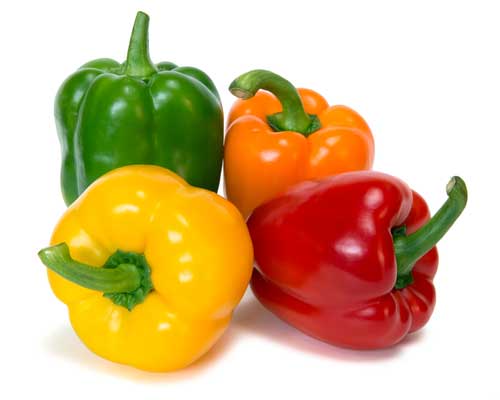 When you think of vitamins, vitamin C is probably the first one that comes to mind. In addition to giving your immune system a boost, it can help lower cholesterol, reduce inflammation and even decrease your risk of cancer. We all know that varieties of citrus can serve as excellent sources of vitamin C, but some people just aren't big fans of fruits like oranges. Fortunately, there are plenty of other ways to get your daily dose of this vital nutrient. Here are five surprising sources of vitamin C:
Source of Vitamin C #1. Peppers
Many types of peppers contain high levels of vitamin C. Red and yellow bell peppers are particularly good choices. Just one can have nearly 600 percent of your suggested daily value. That's over three times the amount in a medium-sized orange. Even other sweet and hot varieties will give you a decent quantity of vitamin C. Try loading up your morning omelet with some crunchy pepper strips and you're set for the day.
 Source of Vitamin C #2. Kiwi
When it comes to fruit, the kiwi is a bit of an ugly duckling. Many people find themselves opting for brightly-colored selections rather than those fuzzy, brown ovals. However, once you peel off the exterior, you'll find lots of juicy, green flesh that's just as healthy as it is vibrant. One kiwi can have more than 80 milligrams of vitamin C, which is roughly what the average adult needs over the course of a day. Consider throwing one into your breakfast smoothie or slice one up for a chilled fruit salad. You'll quickly discover that eating a kiwi is a refreshing and delicious way to get your vitamins!
 Source of Vitamin C #3. Pineapple
Maybe kiwis just aren't your thing. If that's the case, try indulging in another tropical delight instead. A single cup of pineapple will cover your daily amount of vitamin C and satisfy your sweet tooth at the same time. The sugary taste and dense texture make it the perfect pairing for gelatin desserts and yogurt parfaits. You could even go for a sweet and savory combination by topping a pizza with pineapple chunks and sliced ham. You can take your vitamins as well as take in the flavor of the islands!
Source of Vitamin C #4. Broccoli
You may not typically think of filling your cart with vegetables to help you fulfill your vitamin-C requirement. However, broccoli is one of the best sources you'll find in the produce section. Whether you like it steamed, roasted or raw, a cup of the tasty florets will get the job done in terms of your daily vitamin-C consumption. Toss some broccoli into a sizzling Asian stir-fry or serve some uncooked along with ranch dressing for dipping. Who knew a veggie could be such an immune-system booster?
Source of Vitamin C #5. Herbs
While herbs don't pack quite the vitamin-C punch of most of the other items listed here, they may be beneficial for people who don't eat a lot of fruits and vegetables. Parsley, rosemary, and thyme are terrific herbs you can use to help you meet your daily goal. Try sprinkling all three into your favorite marinara sauce. You could also brush them on some freshly-baked focaccia bread with a little olive oil. Not only will you enhance the taste of your dishes, but you'll also get about 15 percent of the vitamin C you need for the day. Staying healthy is easy when you do it with flavor!
Oranges may be the most well-known way to get your vitamin C. However, that doesn't mean they're the only way. Any of the foods on this list can be eaten as a method of increasing your overall consumption of this important nutrient. While the sources may be surprising, the health benefits certainly won't be!
Related Articles By Cathe
Are Raw Vegetables Better for You?
Do You Have a Vitamin C Deficiency?