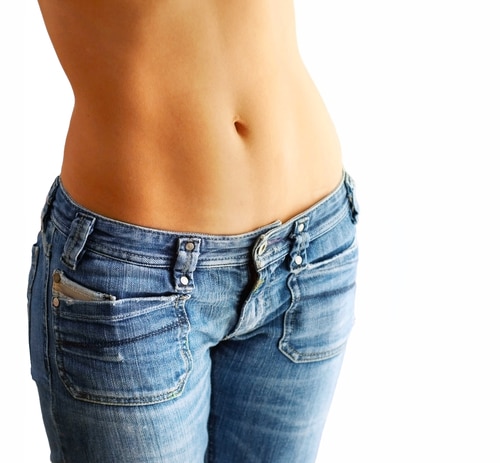 If you're like me, right about now those joyous, calorie-filled holidays have left their mark…..darn butter cookies!!! And, in my case, while I refuse to step on a scale to see just what happened, I don't really have to, as my jeans are already "squeezing in" on the matter at hand. That's why this month I've decided to kick off the New Year's resolutions with not one, but two rotations. Why Two? Well, let's just say I'm super motivated, lol. Seriously though, I've designed two STS/LIS rotations (both highly effective) to not only burn off this holiday's damage but to keep you committed without any guesswork. I've learned over time half the reason people give up on their New Year's resolution (in less than a month of making it) is because they lack the commitment and knowledge it takes to get the job done. That's where I step in with my two rotations:
1) STS/LIS Total Body Recharge…. a high intensity, metabolically stimulated fat loss rotation for the person who wants to torch off an excess of unwanted calories, recharge their fitness level and feel empowered as they do it. This rotation uses STS Total Body and therefore is well suited for those who prefer Total Body Workouts and/or do not own the complete STS Strength Training System
2) STS/LIS 3 Month Transformation Rotation….for the person who wants to get ignited in the same way they would as if doing the one month rotation, but is looking for that little extra something (a little extra edge, a little extra push) to get even more results from doing a more concentrated, undulating rotation. This longer-termed commitment will build ongoing results such as steady fat loss, solid strength gain, and superior metabolic conditioning.
Thinking about doing both rotations? Not a problem. You can do just the one month recharge rotation and then continue on afterwards with the 90 day transformation rotation. The key thing here is commitment. Remember, commitment is a muscle (wink) so start flexing!
STS/LIS 3 Month Transformation Rotation
WEEK ONE
Monday: Disc 16 – M2 – W2 – Chest, Shoulders and Triceps
Tuesday: LIS – Total Body Tri-Sets- Lower Body
Wednesday: LIS-Cardio Supersets
Thursday: Disc 18 – M2 – W2 – Back and Biceps
Friday: LIS-Low Impact Challenge or Cycle Max
Saturday: LIS-AfterBurn
Sunday: Off
WEEK TWO
Monday: Disc 4 – M1 – W2 – Chest, Shoulders and Biceps
Tuesday: LIS – Turbo Barre Lower Body Express Premix
Wednesday: LIS-AfterBurn
Thursday: Disc 2 – M1 – W1 – Back and Triceps
Friday: LIS-Low Impact Challenge or Cycle Max
Saturday: LIS-Athletic Training
Sunday: Off
WEEK THREE
Monday: Disc 25 – M3 – W1 – Chest & Back
Tuesday: Disc 26 – M3 – W1 – Plyo Legs
Wednesday: Slide & Glide
Thursday: Disc 27 – M3 – W1 – Shoulders, Biceps and Triceps
Friday: LIS-Low Impact Challenge or Cycle Max
Saturday: LIS-Cardio Supersets
Sunday: Off
WEEK FOUR
Monday: LIS – Total Body Tri-Sets-Upper Body
Tuesday: Disc 17 – M2 – W2 – Legs
Wednesday: LIS-Athletic Training
Thursday: LIS – Total Body Tri-Sets-Upper Body
Friday: LIS-Low Impact Challenge or Cycle Max
Saturday: LIS-AfterBurn
Sunday: Off
WEEK FIVE
Monday: Active Recovery Week: Yoga Relax or Yoga Max or any Stretch Workout of Choice
Tuesday: Off
Wednesday: Active Recovery Week: Yoga Relax or Yoga Max or any Stretch Workout of Choice
Thursday: Off
Friday: Active Recovery Week: Yoga Relax or Yoga Max or any Stretch Workout of Choice
Saturday: Off
Sunday: Off
WEEK SIX
Monday: Disc 1 – M1 – W1 – Chest, Shoulders and Biceps
Tuesday: Disc 6 – M1 – W2 – Legs
Wednesday: LIS-AfterBurn
Thursday: Disc 5 – M1 – W2 – Back and Triceps
Friday: LIS-Low Impact Challenge or Cycle Max
Saturday: LIS-Athletic Training
Sunday: Off
WEEK SEVEN
Monday: LIS – Total Body Tri-Sets-Upper Body
Tuesday: Disc 29 – M3 – W2 – Plyo Legs
Wednesday: Slide & Glide
Thursday: LIS – Total Body Tri-Sets-Upper Body
Friday: LIS-Low Impact Challenge or Cycle Max
Saturday: LIS-Cardio Supersets
Sunday: Off
WEEK EIGHT
Monday: Disc 22 – M2 – W4 – Chest, Shoulders and Triceps
Tuesday: Disc 20 – M2 – W3 – Legs
Wednesday: LIS-Athletic Training
Thursday: Disc 21 – M2 – W3 – Back and Biceps
Friday: LIS-Low Impact Challenge or Cycle Max
Saturday: LIS-AfterBurn
Sunday: Off
WEEK NINE
Monday: Disc 10 – M1 – W4 – Chest, Shoulders and Biceps
Tuesday: LIS – Total Body Tri-Sets- Lower Body
Wednesday: LIS-Cardio Supersets
Thursday: Disc 11 – M1 – W4 – Back and Triceps
Friday: LIS-Low Impact Challenge or Cycle Max
Saturday: LIS-Athletic Training
Sunday: off
WEEK TEN
Monday: Active Recovery Week: Yoga Relax or Yoga Max or any Stretch Workout of Choice
Tuesday: Off
Wednesday: Active Recovery Week: Yoga Relax or Yoga Max or any Stretch Workout of Choice
Thursday: Off
Friday: Active Recovery Week: Yoga Relax or Yoga Max or any Stretch Workout of Choice
Saturday: Off
Sunday: Off
WEEK ELEVEN
Monday: Disc 28 – M3 – W2 – Chest & Back
Tuesday: Disc 32 – M3 – W3 – Plyo Legs
Wednesday: Slide & Glide
Thursday: Disc 30 – M3 – W2 – Shoulders, Biceps and Triceps
Friday: LIS-Low Impact Challenge or Cycle Max
Saturday: LIS-Cardio Supersets
Sunday: Off
WEEK TWELVE
Monday: Disc 19 – M2 – W3 – Chest, Shoulders and Triceps
Tuesday: LIS – Total Body Tri-Sets-Lower- Body
Wednesday: LIS-Cardio Supersets
Thursday: Disc 24 – M2 – W4 – Back and Biceps
Friday: LIS-Low Impact Challenge or Cycle Max
Saturday: LIS-AfterBurn
Sunday: Off
WEEK THIRTEEN
Monday: Disc 7 – M1 – W3 – Chest, Shoulders and Biceps
Tuesday: LIS – LIS – Turbo Barre Lower Body Express Premix
Wednesday: LIS-AfterBurn
Thursday: Disc 8 – M1 – W3 – Back and Triceps
Friday: LIS-Low Impact Challenge or Cycle Max
Saturday: LIS-Athletic Training
Sunday: off
WEEK FOURTEEN
Monday: LIS – Total Body Tri-Sets-Upper Body
Tuesday: Disc 35 – M3 – W4 – Plyo Legs
Wednesday: Slide & Glide
Thursday: LIS – Total Body Tri-Sets-Upper Body
Friday: LIS-Low Impact Challenge or Cycle Max
Saturday: LIS-Cardio Supersets
Sunday: Off
STS/LIS Total Body Recharge
WEEK ONE
Monday: STS Total Body – Main program
Tuesday: LIS-Low Impact Challenge
Wednesday: LIS-Yoga Max or Yoga Relax or Rest Day
Thursday: STS Total Body – Main program
Friday: Slide & Glide
Saturday: LIS-Cardio Supersets
Sunday: Off
WEEK TWO
Monday: LIS – Total Body Tri-Sets- Lower Body
Tuesday: LIS-Athletic Training
Wednesday: LIS-Yoga Max or Yoga Relax or Rest Day
Thursday: LIS – Total Body Tri-Sets-Upper Body
Friday: Slide & Glide
Saturday: LIS-AfterBurn
Sunday: Off
WEEK THREE
Monday: STS Total Body – Main program
Tuesday: LIS-Cardio Supersets
Wednesday: LIS-Yoga Max or Yoga Relax or Rest Day
Thursday: STS Total Body – Main program
Friday: LIS-Low Impact Challenge
Saturday: LIS-Athletic Training
Sunday: Off
WEEK FOUR
Monday: LIS – Total Body Tri-Sets- Lower Body
Tuesday: LIS-AfterBurn
Wednesday: LIS-Yoga Max or Yoga Relax or Rest Day
Thursday: LIS – Total Body Tri-Sets-Upper Body
Friday: LIS-Athletic Training
Saturday: LIS- Premix: Cardio Supersets + step
Sunday: Off