(Last Updated On: April 20, 2019)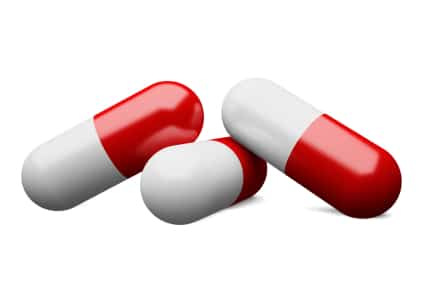 If you're eating a healthy diet and exercising but still finding it a challenge to keep the weight off, take a closer look at your medications. Medications are an underappreciated cause of weight gain and one that many people don't recognize. Even common, over-the-counter medications used to treat hay fever can make it more challenging to keep those extra pounds off. Here are some of the most common medications that cause weight gain.
Beta-Blockers
Beta-blockers are a class of medications commonly used to treat high blood pressure and some types of heart problems. Older classes of beta-blockers that are still used today cause weight gain in many people. The average weight gain on these medications is around four pounds. Fortunately, there are newer beta-blockers on the market that don't have this side-effect. Check with your doctor if you're taking one of the older beta-blockers. Your doctor may be able to switch you over to one that won't cause you to gain weight.
Antihistamines
That antihistamine you pick up at the drugstore to take for allergies or to help you sleep at night could add extra weight to your frame. It turns out the brain has receptors for an antihistamine, and these receptors are also involved in appetite control. Therefore, taking antihistamines can stimulate your appetite.
Mood Medications
A variety of medications used to treat mood disorders like depression, schizophrenia, and bipolar disorder cause weight gain. Anti-depressants are commonly used these days to treat a variety of conditions, and one of the unpleasant side-effects is weight gain. There is one antidepressant called Wellbutrin that not only doesn't contribute to weight gain, but it also causes weight loss in some people by suppressing their appetite. If you're on a mood-altering medication and gaining weight, ask your doctor if your medication could be contributing.
Steroids
Some people take steroids short-term to treat serious allergic reactions or asthma. Others take them long term to treat inflammatory or autoimmune diseases. One common side-effect of steroid-based medications is fluid retention and weight gain. Steroid medications not only add extra pounds to your frame, but they also deposit it around your waistline and tummy. Many people also notice an increase in facial and neck fat after taking steroid medications for a while. Steroids cause fat redistribution. This causes your legs and lower body to become thinner but more fat to be deposited on your torso and upper body.
Anti-Seizure Medications
Some medications used to treat seizure disorders such as Depakote can cause substantial weight gain over time. They seem to do this by boosting insulin levels and increasing appetite. Fortunately, there is a newer anti-seizure medication called Topamax that not only doesn't cause weight gain, it causes weight loss in many people.
Insulin
Diabetics who take insulin are at greater risk for weight gain since insulin is a hormone that boosts fat storage, but not all medications used to treat diabetes contribute to weight gain. Some type-2 diabetes medications such as metformin cause weight loss in some people.
The Bottom Line?
Medications are an often overlooked cause of weight gain. Talk to your doctor if you're on one of these medications and can't seem to control your weight. There may be another medication that will work as well without packing on the pounds.
References:
Mayo Clinic. "Can Beta-Blockers Cause Weight Gain?"
Physician's Desk Reference. 2011.
Related Articles By Cathe:
Can a Brain Scan Predict Whether You'll Gain Weight?
Nuts Are Calorie Dense but Do They Really Cause Weight Gain?