Most fitness experts agree that riding a bicycle is one of the best cardiovascular and muscular endurance/strength exercises people can do to lose weight or improve their health. Are you someone who has longed to ride a bike but has been discouraged by inclement weather or safety concerns? A stationary bike makes it possible for you to get a challenging workout without ever having to leave the comforts of home. While you may already be aware of a stationary bike as an option, you may not know that not all indoor bikes are created equal. The results you get may differ greatly depending on whether you use an indoor traditional exercise bike or an indoor cycle bike.
Traditional Exercise Bikes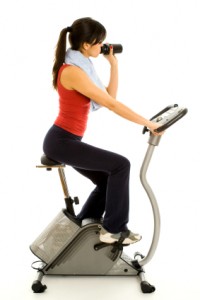 The traditional stationary bike is an exercise machine has been used for over a century and remains one of the oldest and most popular pieces of cardio exercise equipment. The Lifecycle, which was invented in 1968 by Dr. Dimick was the first computerized exercise bike and helped to bring cardiovascular fitness into the mainstream and into health clubs. Today, computerized exercise bikes can be found in nearly every health club and thanks to cheaper technology can be purchased for your home at an affordable price.
Traditional exercise bikes resemble moving bicycles without tires. The pedals, seat, and handlebars are attached to a solid base that keeps the bike from moving while the rider pedals. With comfort at the forefront of its design, the adjustable seat is typically wider than a regular bicycle seat and the rider can either stand upright or be recumbent depending on the bike. When cyclists ride in an upright position more focus is placed on pedaling and leg power than on any other part of the body. This can be particularly beneficial for those with back injuries.
Many traditional exercise bikes also include digital meters that monitor speed, heart rate, and calories burned as well as feature computerized riding programs geared toward endurance and fat loss. These programs can be used to maximize the effectiveness of an exercise routine. This is a great benefit for those who prefer exercising alone, but do not have a personal trainer to provide support and motivation.
What Is A Spin Bike?
Since the Spin bike's introduction in the 1980s by the athlete Jonathan Goldberg, known better as Johnny G, it has been a popular tool for fitness and training and is now taught in over 35,000 fitness facilities worldwide. As a stripped down version of the road bike, the Spin bike keeps the feel of a conventional bicycle, while adding the convenience of all-season, all-weather usage due to its indoor setup. Spinning simulates indoors, the same high-energy bike ride you would get from racing an outdoor bike. Since nearly everyone already knows how to ride a bike, spinning can be learned quickly by almost anyone after learning some basic bike and ride safety tips.
Spin Bikes or Indoor Trainers
Indoor cycle bikes are much newer development in the world of exercise equipment and were first designed as training bikes for professional cyclists. And just like traditional indoor exercise bicycles, Spin bikes are stationary and allow people to enjoy the cardiovascular benefits of cycling in the privacy of their homes. However, as mentioned above, the experience of riding a spin bike more closely simulates that of riding on various types of outdoor terrain. These cycling trainers are designed in such a way that the rider must maintain an upright position. The adjustable seat is narrow and very similar to a regular bicycle seat and gives the rider the ability to cycle both on and off of it if they choose. This adds the advantage of working the stability muscles in the legs and back more than is possible with an upright or recumbent exercise bike. Although spin bikes sometimes have digital displays, many of the best designs avoid fancy gadgets.
The biggest difference between a regular exercise bike and a Spin bike is in how the flywheel mechanism operates. The flywheel is typically heavier on a Spin bike and connected directly to the pedals with a chain. The rider must work harder to get the bike moving, but inertia keeps the pedals spinning even when the rider stops pedaling. This allows the same type of variable resistance control found in an outdoor bicycle and can result in a much faster/higher pedaling cadence as well as a better quality workout.
The decision between choosing an exercise bike or a Spin bike for your home gym is an important step towards achieving your fitness objectives and gaining overall satisfaction. If you are looking for an indoor bike for our new Cycle Max video that simulates the feel and ease of a road bike, then a Spin bike is for you. On the other hand, if you are looking for an exercise machine to build your cardio and endurance, but prefer the luxury of programmable workouts and a calorie counter, then an exercise bike is probably more your style. Either way, incorporating cycling into your workout routine is always a good idea and is guaranteed to provide results.
I have been asked many times if you can modify my new Cycle Max video using a stationary upright or recumbent bike. My answer is that you can always modify any workout and still get some benefit from it, but in order to get the absolute best results/benefits from Cycle Max (or any official Spin based workout), you should use an indoor Spin bike. As far as using Cycle Max on the elliptical or treadmill… again, anything can be modified to get something out of it, however, your results, benefits and overall experience will be entirely different. My guidance, coaching, terminology, drills, intensity levels will all not align properly with that of the modified piece of equipment, hence, the integrity of the intended workout will be lost. So, if you're looking to experience one of the most intense zero impact workouts 'on the planet', give Cycle Max a try, but make sure to start by purchasing the best spin bike for your budget.
Top-Rated Indoor Cycle Bikes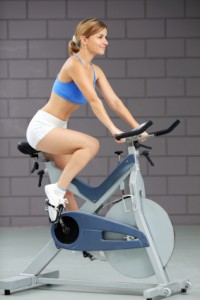 If you are considering buying an indoor cycle bike for your home gym, you may be wondering which bike is the best option. The variety of options and prices may seem limitless. The best indoor cycle bikes have highly adjustable parts and are strong enough to endure wear and tear.
Spinning and indoor cycling does require a financial investment and depending on your budget, bike prices start at about $199 for a low-end home unit and run the gamut up to around $1700 for a top of the line commercial unit. In addition, you may want to consider purchasing a good pair of cycle shoes as well as a gel seat for your bike.
We have used Star Trac V-Bikes at our health club for the last five years and have nothing but good things to say about these bikes, but at over $1000 each, V- bikes may understandably be too pricey for many people. The good news is you really don't need a commercial quality bike for your home and much cheaper alternatives are available. Fortunately for customers, some of the top rated bikes for home use are also among the most practical and economical. Our discussion forums are a great place to get consumer reviews on almost any fitness product, including Spin bikes. Here is a list of just some of the websites that sell Spin and indoor cycle bikes that have been recommended by our forum members.
1. Nordic Track – GX2  Bike
2. QVC – Stamina CPS 9200 Indoor Cycle
3. StudioCycles – Various Spin Bikes (including Star Trac)
4. Bike Tek USA (Reviews of numerous indoor cycle bikes)
Related Articles By Cathe:
Indoor Cycling for Fitness: 5 Reasons to Try a Cycle Workout
Is Indoor Cycling Harder Than You Thought? – Cathe Shares Her Story
Related Cathe Friedrich Workout DVDs: