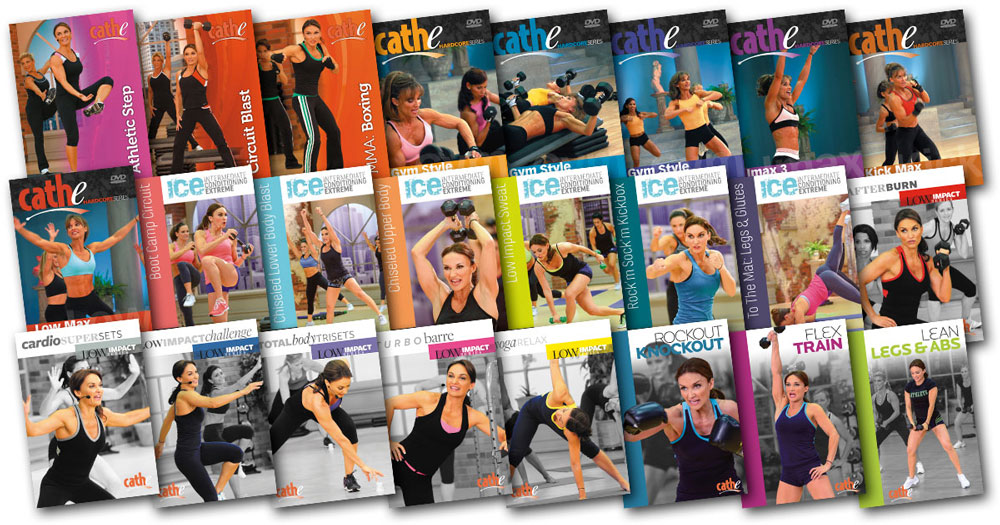 Hi Everyone,
This month we will have a mix of weight work and cardio from different series. Please take extra breaks as needed and drink plenty of water! Enjoy!
OnDemand QuickSelect ™ For Cathe's October 2020 Workout Rotation
iOS, Android, Apple TV, and Roku Cathe OnDemand Users: The Cathe October 2020 Workout Rotation is available now in your app. Just click on the rotation icon in your app to view this month's rotation.
Web Browser Users:  Note: If you're an OnDemand subscriber make sure you're logged into your account through your browser and then just click on the links in my October 2020 Workout Rotation to instantly launch and view your video. Monthly workout rotations are normally published on the first Monday of each month.
WEEK ONE: LOW IMPACT SERIES
M…AfterBurn
T…Low Impact Challenge
W…Total Body Trisets Upper Body
T…Total Body Trisets Lower Body
F…Cardio Super Sets
S… Turbo Barre
S…Yoga Relax
WEEK TWO: SHOCK CARDIO SERIES/2013 DVD MIX INS
M…Rockout Knockout
T…Lean Legs and Abs
W…Athletic Step
T…Flex Train
F….Off
S… MMA: Boxing
S…Circuit Blast
WEEK THREE: ICE SERIES
M…Low Impact Sweat
T… Bootcamp Circuit
W… Rock'm Sock'm
T… To The Mat: Legs and Glutes
F…Chiseled Upper Body
S…OFF
S… Chiseled Lower Body Blast
WEEK FOUR: Hard Core Series
M…Gym Style: Chest and Triceps
T…Low Max
W…Gym Style: Back, Shoulders, Biceps
T…IMAX 3
F…Gym Style: Legs
S…OFF
S…Kick Max