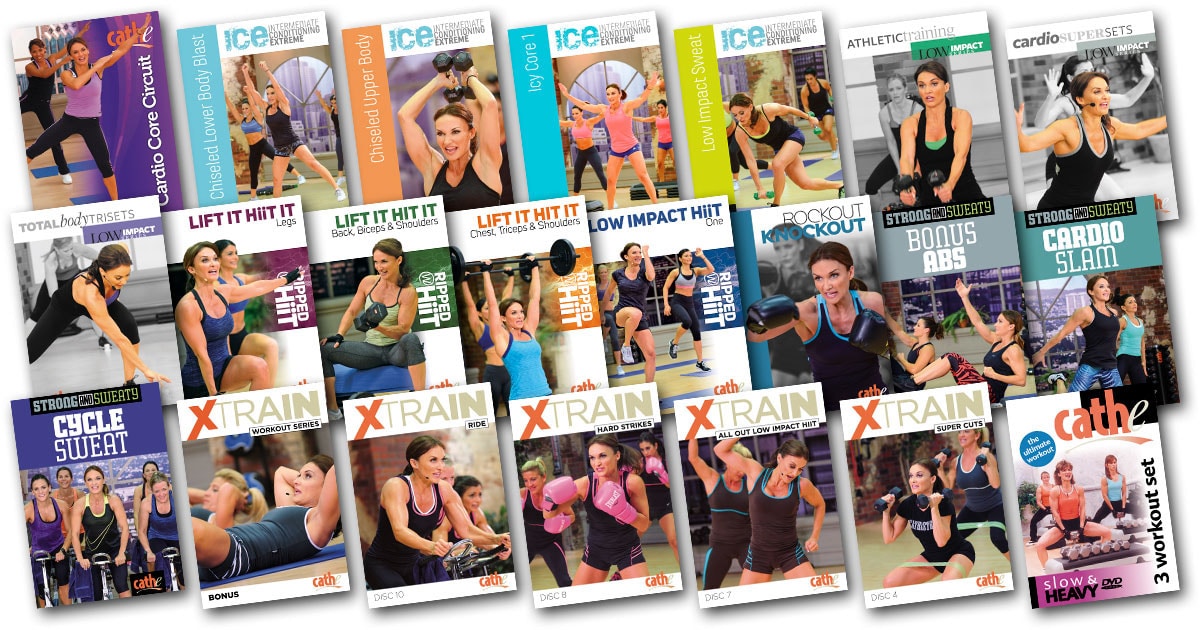 Happy Autumn, Everyone!  This month's rotation will utilize heavy weights and mixed cardio to pump us up and burn off some of the extra calories that we may have left over from those summer splurges (wink).  Please take an added yoga or rest day if you feel that your body needs it. Remember that getting enough water, enough sleep and healthy eats will make your results even better!
OnDemand QuickSelect ™ For Cathe's October 2018 Workout Rotation
Note: If you're an OnDemand subscriber make sure you're logged into your account and then just click on the links in the monthly workout rotation to instantly launch and view your video. Monthly workout rotations are normally published on the first Monday of each month.
WEEK ONE
Monday…Lift It Hit Back, Biceps & Shoulders
Tuesday…Low Impact Sweat plus Icy Core 1
Wednesday… Lift It HiiT Legs
Thursday… Solid Cardio of your choice
Friday… Lift It Hit Chest, Triceps & Shoulders
Saturday… Hard Strikes
Sunday …OFF
WEEK TWO
Monday… Solid Cardio of your choice
Tuesday… Chiseled Upper Body
Wednesday…All Out Low Impact HiiT plus Xtrain Bonus Core 1
Thursday…Chiseled Lower Body Blast
Friday… Rockout Knockout
Saturday… Athletic Training
Sunday …OFF
WEEK THREE
Monday… Cardio Super Sets
Tuesday… Slow & Heavy Legs & Shoulders
Wednesday… Slow & Heavy Chest & Back
Thursday… Low Impact HiiT One plus Bonus Abs One
Friday… Slow & Heavy Shoulders & Triceps
Saturday…Ride (or cardio of choice)
Sunday …OFF
WEEK FOUR
Monday… Cardio Core Circuit
Tuesday… Trisets Upper Body
Wednesday…Cardio Slam plus Strong Sweaty Bonus Abs
Thursday… Trisets Lower Body
Friday…Cycle Sweat (or cardio of choice)
Saturday… Super Cuts
Sunday …OFF
*You can view all of Cathe's monthly workout rotations at | Click Here |