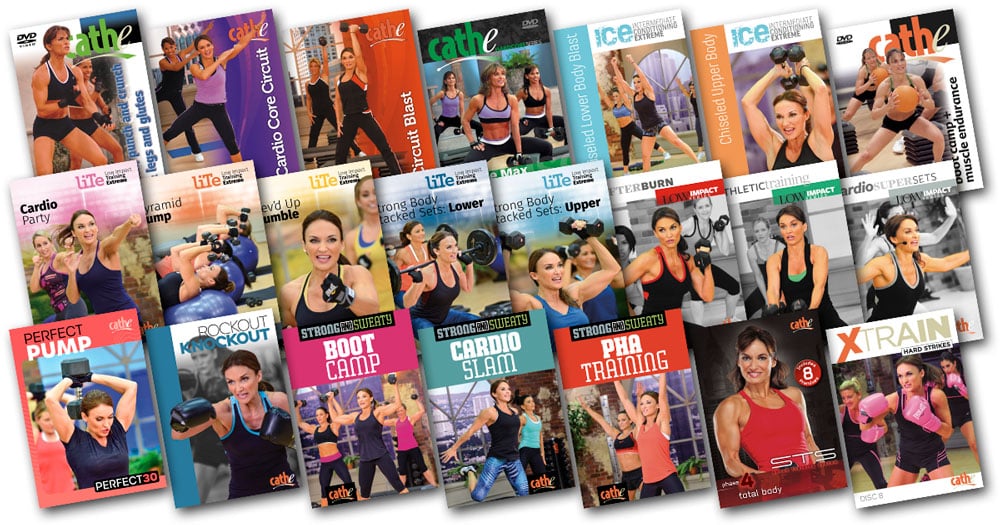 Hi Everyone! This month (March 2023 Workout Rotation) we'll challenge our strength and endurance with an intense mix of cardio and weight training plus an extra splash of core! Work hard, eat well and as always,  listen to your body! You've got this!
OnDemand QuickSelect ™ For Cathe's March 2023 Workout Rotation

iOS, Android, Apple TV, and Roku Cathe OnDemand Users: Cathe's March 2023 Workout Rotation is available now in your app. Just click on the rotation icon in your app to view this month's rotation. Web Browser Users:  Note: If you're an OnDemand subscriber make sure you're logged into your account through your browser and then just click on the links in my March 2023 Workout Rotation to instantly launch and view your video. Monthly workout rotations are normally published on the first Monday of each month.
Week 1
W Rev'd Up Rumble plus LITE Six Pack Abs 1
S OFF
Week 2
W Hard Strikes plus XTrain Core 1
S OFF
Week 3
W Rockout Knockout plus LITE Six Pack Abs 2
T Strong Body Stacked Sets Upper Body
F Strong Body Stacked Sets Lower Body
S OFF
Week 4
W Kick Punch & Crunch w/ Stability Ball Abs
T Pyramid Pump Upper Body Only
F Pyramid Pump Lower Body Only
S OFF