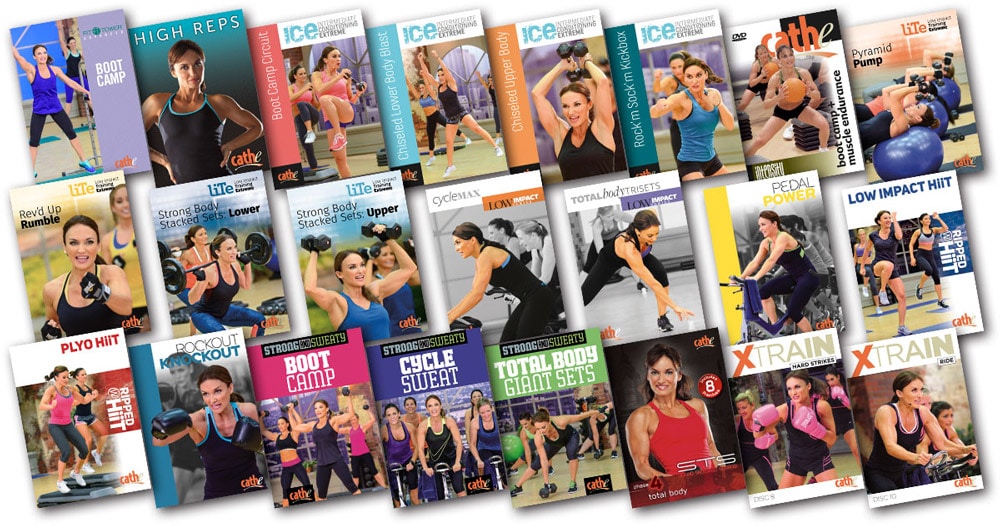 Hi Everyone! This month's rotation is a tough one with a solid mix of cardio, heavy weights, and total body workouts! Each week there is one day where a double workout is listed. For those of you that want the extra challenge, you can choose to do both! If that's too much for you, you can choose the upper or lower body option on that day! Take an extra rest day each week if needed and get plenty of water during and after your workout! Stay strong Cathletes! We're in this together!
OnDemand QuickSelect ™ For Cathe's June 2020 Workout Rotation
iOS, Android, Apple TV, and Roku Cathe OnDemand Users: The Cathe June 2020 Workout Rotation is available now in your app. Just click on the rotation icon in your app to view this month's rotation.
Web Browser Users:  Note: If you're an OnDemand subscriber make sure you're logged into your account through your browser and then just click on the links in my June 2020 Workout Rotation to instantly launch and view your video. Monthly workout rotations are normally published on the first Monday of each month.
Week 1
T ….CycleMax (or cardio of choice)
T …OFF or extended stretch of choice
F …Ripped w/ HiiT Plyo HiiT One
Week 2
T …Ride (or cardio of choice)
W …Total Body Trisets Upper & Lower
T …OFF or extended stretch of choice
F …Ripped w/ HiiT Plyo HiiT Two
S …Hard Strikes
Week 3
T …Cycle Sweat (or cardio of choice)
W …Chiseled Lower Body & Upper Body
T …OFF or extended stretch of choice
F …Ripped w/ HiiT Low Impact HiiT One
S …High Reps
Week 4
M …Fit Tower Advanced Bootcamp
T …Pedal Power (or cardio of choice)
W …Strong Body Stacked Sets Upper & Lower
T …OFF or extended stretch of choice
F …Ripped w/ HiiT Low Impact HiiT Two
*You can view all of Cathe's monthly workout rotations at | Click Here |