(Last Updated On: July 9, 2018)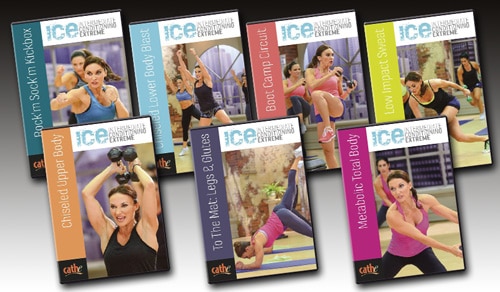 Now that you have had some time to get familiar with your ICE series workouts here is a rotation that's sure to get 2016 off to an amazing start (Blizzard Blasts are optional on every workout).  Get ready to lose unwanted holiday pounds, strengthen muscles and reduce body fat!  It's time to ICE ICE Baby!!!!
OnDemand QuickSelect ™ 
Note: If you're an OnDemand subscriber make sure you're logged into your account and then just click on the links below to instantly launch and view your video.
WEEK ONE
Mon… Rock'm Sock'm (Triceps)
Tuesday…To The Mat: Legs and Glutes + Icy Core 2
Wed…Chiseled Upper Body + Icy Core 1
Thursday… Low Impact Sweat (Back)
Fri… Chiseled Lower Body (Shoulders)
Sat… off
Sun… Boot Camp Circuit (Biceps)
WEEK TWO
Monday… Low Impact Sweat (Back)
Tuesday… Rock'm Sock'm (Triceps) + Icy Core 1
Wed… off
Thursday… Metabolic Total Body (Chest)
Fri… Chiseled Lower Body Blast (Shoulders) + Icy Core 2
Sat… Off
Sun… Boot Camp Circuit (Biceps)
WEEK THREE
Mon… Chiseled Upper Body + Icy Core 2
Tuesday… Low Impact Sweat (Back)
Wednesday… To The Mat: Legs & Glutes (Shoulders)
Thursday… Rock'm Sock'm (Triceps) + Icy Core 1
Fri… Metabolic Total Body (Chest)
Sat… OFF
Sun… Boot Camp Circuit (Biceps)
WEEK FOUR
Mon…Low Impact Sweat (Back)
Tuesday… Chiseled Upper Body + Icy Core 1
Wed… Rock'm Sock'm (Triceps)
Thursday…Chiseled Lower Body+ Icy Core 2
Fri… Metabolic Total Body (Chest)
Sat… OFF