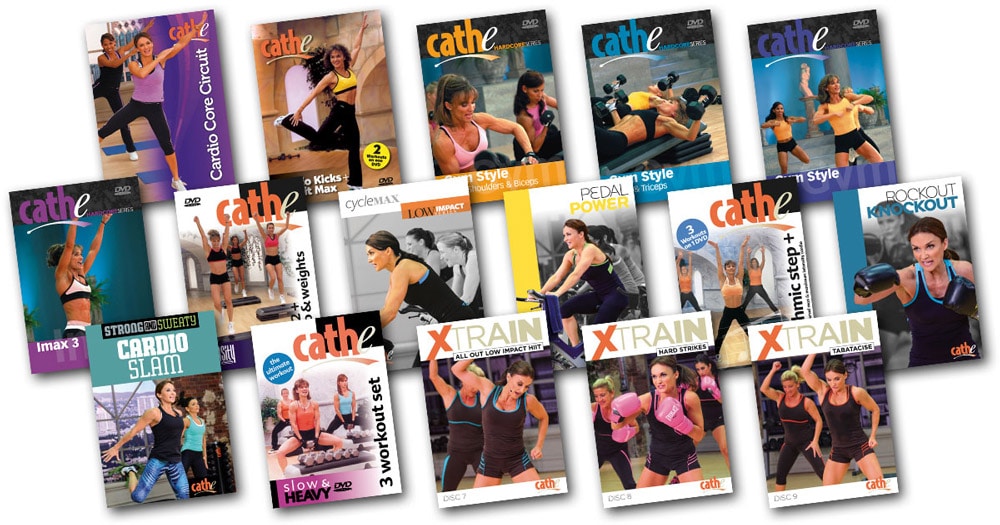 Hi Everyone! This month ( February 2020 Workout Rotation ) we'll hit those muscles hard with a focus on heavy strength routines using two favorite series, Gym Styles and Slow & Heavy! We'll mix in a variety of cardio routines to break up the days of weight training to burn some extra calories and keep building our cardio endurance. Be sure to fuel your hard-worked muscles with healthy meals including high-quality proteins. Drink plenty of water and take extra rest days if necessary! We've got this!
OnDemand QuickSelect ™ For Cathe's February 2020 Workout Rotation
iOS, Android, Apple TV, and Roku Cathe OnDemand Users: The Cathe February 2020 Workout Rotation is available now in your app. Just click on the rotation icon in your app to view this month's rotation.
Web Browser Users:  Note: If you're an OnDemand subscriber make sure you're logged into your account through your browser and then just click on the links in my February 2020 Workout Rotation to instantly launch and view your video. Monthly workout rotations are normally published on the first Monday of each month.
WEEK ONE
Mon…Slow and Heavy (S&H) Chest/Back
Tues…Cardio Kicks
Thurs…Imax 2
Fri…Pedal Power (or other solid cardio)
Sun…OFF
WEEK TWO
Tues…Cardio Core Circuit
Wed…Gym Style Back/Shoulder/Biceps
Thurs…Rhythmic Step
Fri…Rockout Knockout
Sat…Gym Style Legs
Sun…Off
WEEK THREE
Mon…Slow and Heavy (S&H) Chest/Back
Tues…Cardio Slam
Thurs…Imax 3
Fri…Cycle Max (or other solid cardio)
Sun…OFF
WEEK FOUR
Tues…Tabatacise
Wed…Gym Style Back/Shoulder/Biceps
Thurs…All Out Low Impact Hiit
Fri…Hard Strikes
Sat…Gym Style Legs
Sun…Off
*You can view all of Cathe's monthly workout rotations at | Click Here |