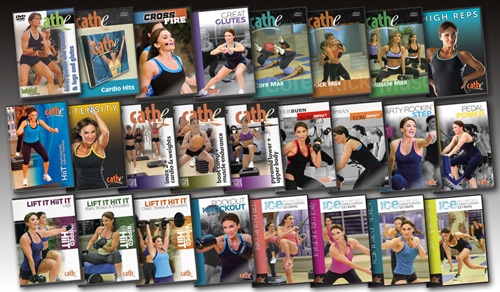 Hi Everyone! This month's rotation provides a great mix of older & newer, longer & shorter, hiit & steady state, total body strength & split strength workouts. Burn fat, increase cardio capacity & build lean muscle with this month's variety!
OnDemand QuickSelect ™ 
Note: If you're an OnDemand subscriber make sure you're logged into your account and then just click on the links below to instantly launch and view your video.
WEEK ONE
Mon…ICE Rock'm Sock'm (Blizzard Blast Optional)
Tues…Hiit 30/30
Wednesday…Muscle Max
Thurs….After Burn
Fri….Intensity (step)
Sat….ICE Boot Camp plus Bonus Core
Sun….Off
WEEK TWO
Mon…Kick Max
Tues…Lift It Hit It: Chest/Triceps/Shoulders
Wednesday…Pedal Power (or other solid cardio workout of choice)
Thurs….Lift It Hit It: Back/Biceps/Shoulders
Fri….Cross Fire
Sat….Lift It Hiit It..Legs plus Core Max Segment One
Sun….Off
WEEK THREE
Tues…High Reps
Wednesday…Party Rockin Step 1 or Party Rockin Step 2 
Thurs….Cycle Max (or other solid cardio workout of choice)
Fri….Muscle Endurance
Sat….Power Max
Sun….Off
WEEK FOUR
Tues…ICE Metabolic Total Body plus Bonus Core
Wednesday…IMAX 2
,
Thurs….Great Glutes
Fri….ICE Low Impact Sweat
Sat….Pyramid Upper Body
Sun….Off