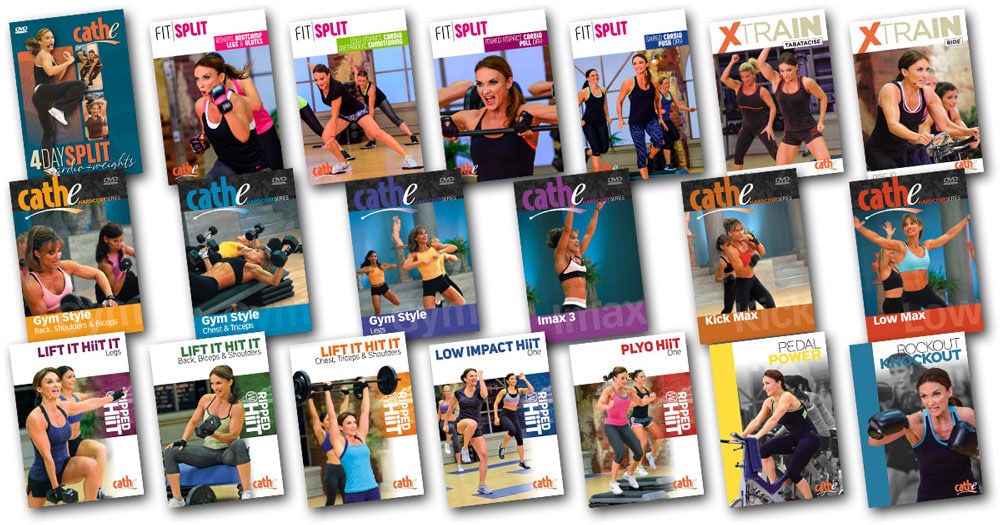 Hi Everyone!  This month we'll focus on building strength and burning fat with split workouts.  All of your weight workouts will be done as split workouts instead of doing total body weight routines.   You'll also have a variety of cardio to shake things up and keep your metabolism rev'd up!  This holiday season let's really focus on keeping ourselves healthy and strong!
OnDemand QuickSelect ™ For Cathe's December 2020 Workout Rotation
iOS, Android, Apple TV, and Roku Cathe OnDemand Users: The Cathe December 2020 Workout Rotation is available now in your app. Just click on the rotation icon in your app to view this month's rotation.
Web Browser Users:  Note: If you're an OnDemand subscriber make sure you're logged into your account through your browser and then just click on the links in my December 2020 Workout Rotation to instantly launch and view your video. Monthly workout rotations are normally published on the first Monday of each month.
WEEK ONE
Mon…Fit Split Boxing Bootcamp/Legs
Tues…off
​Wed…Fit Split Low Impact Cardio/Metabolic Conditioning
​Thurs…RIDE (or solid cardio of choice)
​Fri…. Fit Split Mixed Impact Cardio/Pull Day
​Sat…Fit Split Shred Cardio/Push Day
Sun…off
WEEK TWO
​Tues… RWH Lift it Hit It Back, Biceps, Shoulders
Wed….Rockout Knockout
​Thurs… RWH Lift it Hiit it Legs
​Fri… RWH Plyo HiiT One
​Sat…RWH Lift it Hit It Chest, Triceps, Shoulders
​Sun…off
WEEK THREE
​Mon…4DS High Intensity Step/ Chest and Back
Tues…Pedal Power (or solid cardio of choice)
Wed…4DS Lower Intensity Step/shoulders & core
Thurs…Tabatacise​
Fri…4DS Boot Camp plus Bi's and Tri's
​Sat…4DS Kickbox plus Legs and Core
Sun…off
​
WEEK FOUR​
Mon…Gym Style Back, Biceps & Shoulders
​Tues…Kickmax
​Wed…Gym Style Legs
​Thurs….Imax 3
​Fri….Gym Style Chest and Triceps
​Sat….Low Max
​Sun …off