(Last Updated On: April 1, 2019)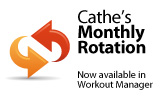 Hi Everyone! I know this is a huge ongoing month of festivities but lets also keep our health a high priority on our "to do" list.
This month we are shocking our systems by mixing high impact with low impact workouts and also combining muscular strength with muscular endurance workouts. I have factored in additional stretching in case your body feels especially tight from the "after shock". Expect to enhance your metabolism, burn fat, calories, improve flexibility and build better bone density! Now if you can do all that great, but if you can do it through the busy month of December, even better! Holiday Self Help: For every holiday indulgence, drink two extra glasses of water, do 25 push ups and 50 crunches (that ought to keep your indulgences in check, wink).
So if you're ready, let's take on our last rotation of 2011 with everything we've got!
WEEK ONE
Mon: Athletic Training
Tues: Imax 2 plus Total Body Stretching (Stretch #1)
Wed: Slide and Glide
Thurs: 4DS Kickbox, Legs,
Fri: Pyramid Upper Body
Sat: Pyramid Lower Body
Sun: Yoga Max (or day off)
WEEK TWO
Mon: Afterburn
Tues: Imax 3
Wed: Kick Max
Thurs: Total Body Trisets Upper Body
Fri: Total Body Trisets Lower Body
Sat: First 25 minutes of Athletic Training, Ab Circuits Pilates based, Total Body Stretching (Stretch #2)
Sun: Yoga Relax (or day off)
WEEK THREE
Mon: Cardio Supersets
Tues: Imax Original
Wed: Low Impact Challenge
Thurs: Muscle Max
Fri: Kick Punch and Crunch
Sat: Cycle Max (or Hiit 30/30) plus Total Body Stretching (Stretch #1)
Sun: Yoga Max (or day off)
WEEK FOUR
Mon: Afterburn
Tues: Hit 40/20 plus Total Body Stretching (Stretch #3)
Wed: Total Body Triset Premix
Thurs: Slide and Glide
Fri: Turbo Barre
Sat: Body Max 2
Sun: Yoga Relax (or day off)