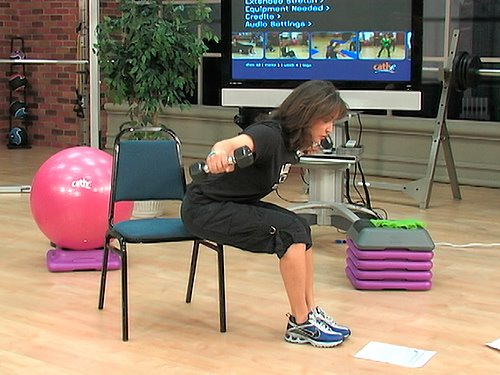 Cathe TV – STS Week #6
This week's show is broken into two segments on YouTube and may be viewed at:
Highlights of Show #6

1. In this week's show Cathe Recaps the first week of STS mesocycle #2, Discs 13,14 and 15. Cathe also briefly discusses the 2nd week of Mesocycle #2, discs 16,17,18, which features back off sets.
2. Cathe demonstrates and gives form pointers for bicep curls (muscle animation is shown), rear delts, 45 degree lunge, and dumbbell tricep extensions. If you haven't already done so you can subscribe to Cathe TV by clicking on this link: http://www.youtube.com/user/CatheTelevision and then click on the subscribe button you see in the upper left.
If there are any questions you would like answered or demonstrated please make your suggestions in our Cathe TV forums.Cathe's weekly STS show may be viewed on both YouTube and iTunes. You also may view current and archived shows at
https://www.cathe.com/cathetv/