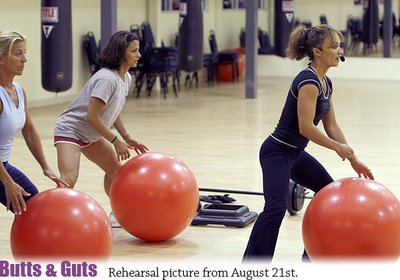 Hi Everyone! I hope you are doing well today.
Its another crazy day here so let me grab this minute to give you a breakdown of the Butts and Guts workout. Keep in mind that because this workout specifically targets the butt vs overall legs, the exercises are chosen to reflect that. We, of course, also have a couple of exercises that compliment the overall leg area, however, again the focus is mainly on the glute area.
Butt's and Guts:
The equipment used will be a stability ball, band, high step, 2.5lb ankle weights, light hand weights and a weighted barbell.
Warm Up (with stability ball)
Standing Leg Work
Floorwork
Core with weights (finishes without weights)
Core on the ball
Stretch
We will offer several premixes that will change the order, length and feel of this workout. Some of the premixes will be designed to reduce the amount of equipment you need as we know from our forum that too much equipment can be a problem.
We will rehearse again tonight as well as the rest of the week and then….IT'S FILM DAY ….YES!
Take Care,
Cathe