Announcing Cathe's New Advanced Fit Tower™ DVDs
Categories: Featured News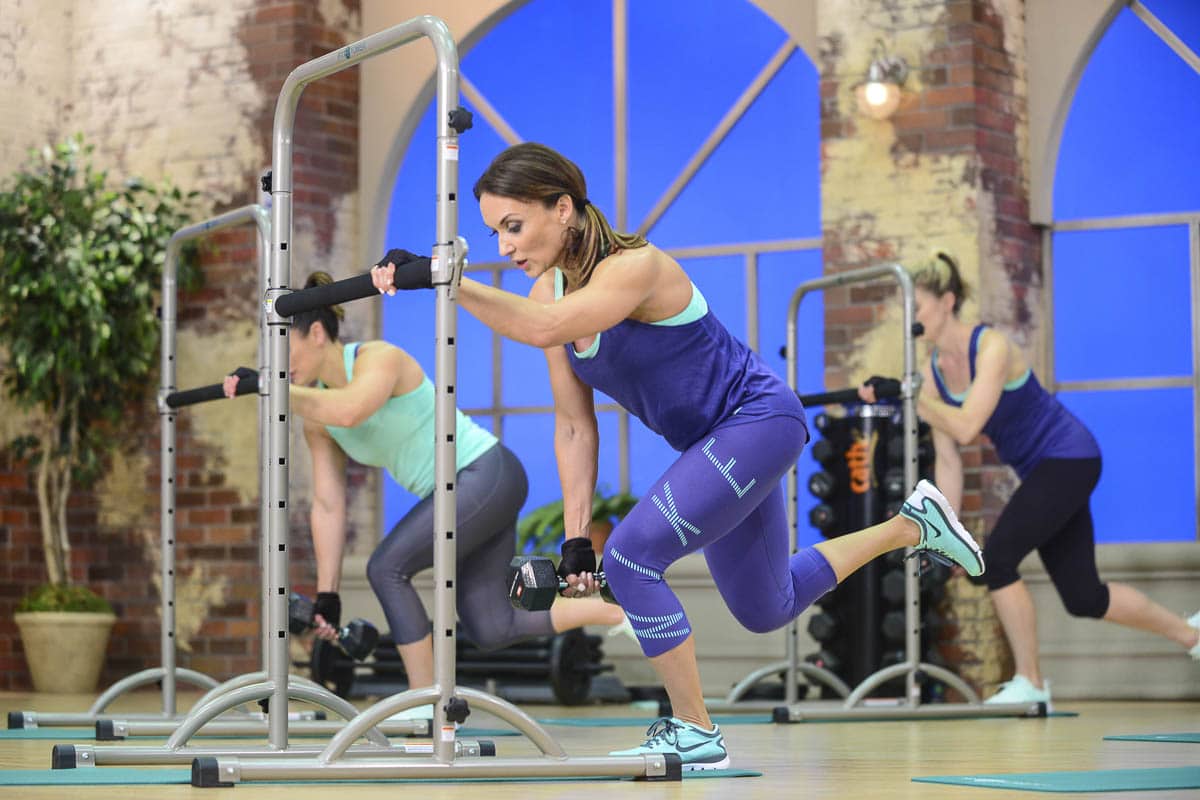 Order Cathe's New Advanced Fit Tower™ DVDs
Now In Stock!!!
Good news Cathletes… It's time!  Time to share some details of my new Fit Tower™ workouts with you!  I am so excited to be able to tell you about these incredible workouts! All three of these new DVDs will be geared towards the advanced exerciser and will take the Fit Tower™ to a whole new level (many different levels actually!)  These new workouts will take you through unique and exciting exercises that utilize the many different height adjustments of the Fit Tower™.  Get ready to lift, lower, strengthen, lengthen and burn some serious calories in the process!
About My 3 New Advanced Fit Tower™ DVDs
Fit Tower™ Bootcamp This fast paced, high energy workout will work each and every part of your body while keeping the cardio factor up and the sweat levels high!  You will be breathing heavy and burning as you move from exercise to exercise both on and off the tower. Time to get Movin'!
Fit Tower™ Total Body  This workout is all about building and shaping beautiful, lean and strong muscle!  We will be utilizing the tower complete with barbell clips as well as the resistance bands to increase intensity in this workout!  Get out your steps and your barbells and prepare yourself to hit each muscle group with focus and determination!
Fit Tower™ Legs, Glutes & Core This lower body core fusion workout focuses on using methods of Pilates, ballet, yoga and barre to shape and firm all areas of the hips, thighs, glutes and core. We will be using the Fit Tower™ for alignment and stability as we lengthen our muscles and strengthen our centers! Don't let this workout fool you! You will be feeling the sting for sure!
Don't Have a Fit Tower? 
No problem, Fit Tower™ is offering  a special rate and free shipping (48 USA and Canada… excluding the provinces of Quebec, and the Northwest Territories, Yukon and Nunavut) on the Fit Tower™ unit. Click here to learn more. To Learn More – Click Here
Free Online Fit Tower™ User's Guide (coming soon)
An online user guide with several rotations and complete workout instructions will be available as an online  download PDF or viewed on your computer. Rotations will also include our QuickSelect for OnDemand users which will automatically and instantly launch your OnDemand videos.
Important! – Make Sure To Read
1.  Fit Tower™ DVDs Are Only Available On Our Site | Order Now |
2. The Fit Tower™ unit is only available from the manufacturer and must be ordered from the Fit Tower™ website, not shop.cathe.com. | Click Here |
3. The Fit Tower™ DVDs are available to anyone worldwide, but the Fit Tower™ is currently available to USA (all 50 States) customers and is now available for Canadian Cathletes too (excluding the provinces of Quebec, and the Northwest Territories, Yukon and Nunavut). The Fit Tower™ will ship from a facility in Canada and that means you won't have to worry about import taxes. *Fit Tower™ free shipping offer is only for USA lower 48 states
4. The Fit Tower™ can not ship to APO and FPO Addresses, as the cartons are too large for USPS and UPS is not granted access to military bases.  Additionally, the Fit Tower™ cannot ship to a PO Box due to the carton size, so the customer needs to provide a street address. | View Fit Tower™ FAQ |
Order the Fit Tower™ Now At a Special Savings and Get Free Shipping!!!
Extra 10% Off the Fit Tower Workout System (code: Cathe10)
Free Weight Bar Clips ($19.95 value)
*Free Shipping
In addition to our Pre-Sale for the new advanced Fit Tower™ DVDs, the manufacturer of the Fit Tower™ is offering a special  to all Cathletes on the Fit Tower™ Home Workout System. This unit is now in stock and will ship within a few days of your order with free shipping (48 USA only) and comes with a no risk 30 day money back guarantee.  Also, now shipping to Canadian Cathletes (excluding the provinces of Quebec, and the Northwest Territories, Yukon and Nunavut). Ak and Hi can now also order the Fit Tower™ subject to shipping charges Just click on the button below to order your Fit Tower™ today  directly from the manufacturer.
The Fit Tower™ Bundle includes:  (Fit Tower™, 3 beginner Workout DVDs, Yoga Mat, Loop, Stretch Band + FREE "Weight Bar Clips" ($19.95 value).  Get an Additional 10% Off the discounted price of $199.95 (regular price $249.95). Use coupon Code: "Cathe10" + Free Shipping *USA lower 48 states only. | Order The Fit Tower™ Unit |