It's funny how a single moment can change your life forever. For me, that moment was a few weeks after I turned 40, when I was driving home from dinner at a friend's house. I was at a stoplight when I was suddenly rear-ended by a man who was experiencing some sort of diabetic episode and hadn't recognized that the traffic in front of him was stopped. He slammed into the back of my car going approximately 40 mph.
At first, I didn't think I was hurt, and I was even able to drive home from the scene (my car sustained $8500 in damages, but somehow was still drivable). But as the normal aches and pains of whiplash subsided in the days that followed, pain in my lower back began to increase. It was eventually determined that I had torn one, if not two, lower lumbar dics, which meant that the discs were not only inflamed and bulging, but also leaking fluid that felt like battery acid on my spine. And structurally, my alignment was thrown off, causing more inflammation and pain in my right sacral iliac joint and hip.
I underwent four separate epidural injections and months of physical therapy, but the pain was persistent. Activities of daily living became extremely difficult for me, and instead of trying to move more, I responded by moving less and less and less (which I now know is the exact wrong thing to do for back pain). And I had to begin cutting back my hours at work until eventually I had to quit my job altogether. For the next few years, I grew weaker and weaker, life with chronic pain became my new normal, and I became mentally and emotionally depressed and exhausted.
And then one day I woke up and decided that I was sick and tired of being sick and tired. I knew I had to do something, but I hadn't exercised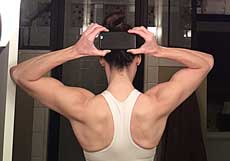 since my mid 20's and had no idea what to do or where to start. So I simply began walking on my treadmill. In those early days, I was lucky to walk for 15 minutes at a very slow pace before experiencing total exhaustion. But I kept at it every day, slowing increasing my time and pace and slowly feeling stronger and stronger.
After about a year of walking, I knew I needed to progress to something more, but I knew I couldn't withstand any pounding movements (running or jumping) on my spine. So I began searching for "low impact" video workouts online, and that's when I stumbled upon Cathe Friedrich.
I ordered one of her Low Impact Series videos – Cardio SuperSets – and couldn't even get through it the first time I tried. But somehow Cathe made me feel safe, and I liked her, and so I kept trying again and again until it became achievable. And then I bought a few more of her LIS videos and did the same with those. And as I began to see progress and feel myself becoming stronger, I ventured beyond her low impact videos to other series and just kept going. I looked forward every day to my date with Cathe!
And during this time something magical happened – I began to see myself as being stronger, braver and more capable than I thought I was. I really wanted to start pushing myself out of my comfort zone and see what I could do – and each time I found that I could do more than I ever thought I could. This was revelatory mentally and emotionally, as well as physically, and allowed me to finally begin reclaiming my life from years of constant pain — it was like a dark fog lifted! As I continued to progress in my workouts over the next few years, my personality became more pleasant, my self-esteem grew, my marriage got stronger, my life got better. And, of course, I lost weight, reshaped my body, and over time gained a significant amount of strength, power and flexibility.
A single moment that changes your life forever… Well, for me it's now two moments. The moment of my car accident, and the moment I found Cathe. I'm not sure I would be where I am today without her. She made me feel safe when my world was upside down, she motivated and encouraged me to keep going when I didn't think I could, she taught me the fundamentals of exercise and proper form and progressions, and she instilled deep within me a passion for the transformative power of fitness. And since we are the same age, she has always made me feel that if she can do it, I can do it! And all that from a lady on my TV screen!
I live a life now that is mostly free of pain. At 50, I am stronger and healthier than I have ever been. I've attended several Road Trips to work out with Cathe in person (a true honor and highlight in my life!!) and am constantly encouraged and blessed by all my friends in the Cathlete community. I've also obtained certifications in both personal training and fitness/sports nutrition, and I love nothing more than to motivate others to get moving and discover that they, too, are stronger, braver and more capable than they ever thought they could be.
Thank you, Cathe, for being my moment!
Liz Balmer