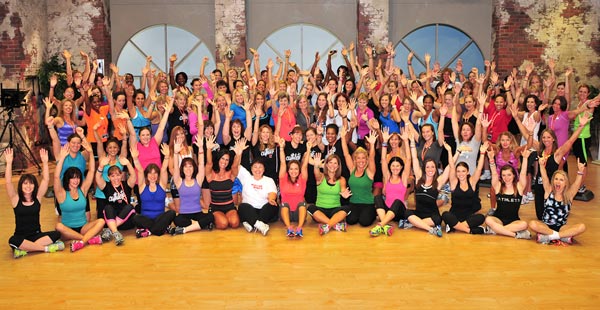 A big thank you to all of our 2012 Glassboro Road Trippers!!! I apologize for my delay in sending this message out but as I mentioned on the RT my father is battling cancer and currently enduring a rough patch where he needs my family's help and support.
I'd like to thank you all for coming out to the road trip and sharing a wonderful weekend with me. I love having the roadtrips as it gives me the opportunity to meet you on a whole other, more personal level. We can laugh together and share fun jokes while we sweat it out in full Cathlete style!
From the opening workout to the goodbye breakfast, each and every minute was filled with non stop action, loads of warm hugs and tons of pictures and video to prove it. What was extra fun was that we were able to live stream the event ( with much better technology) so that you could tell your family to watch you come over to the camera and say hi to them. Fun Stuff!
How about the sound of hundreds of feet in unison working out in pure bliss on total adrenaline…a sound to remember! Yup, there was no time for down time while we paced ourselves through seven high energy workouts. I say seven because this years Zumba was definitely more than just a dance party. You "shook it" good and it was all Gladys's fault, ha ha!
I think we can all agree that one of the most touching and emotionally driven workouts was our DEDICATION WORKOUT, the workout that gave all of our friends and family who suffer from cancer and other illnesses a good dose of our positive energy to fuel them with the happy and positive light they need to help fight the fight.
I also hope you enjoyed meeting the cast, seeing the set, and being filmed on the set. That is something that is unique to our Glassboro road trips and provides a neat perspective that changes how you look at your DVDs when you go home and do them again.
What I enjoy witnessing with each road trip is the unique and special bond that is built amongst friends and fitness enthusiasts alike. It's so fun to watch you talk about your favorite moves in my workouts or the reactions your family members have when you talk about your Cathe workouts. It's so fun to talk to other Cathletes who Just " get it"!
I so do wish I could reminisce some more but I do have to sign off for now. I'd just like to thank everyone on my team who was involved in the effort to help make this years road trip a success. They are a tireless driven team who I love very much!!! I'd also like to thank our Cathlete roadtrip coordinators Debbie and Cyndi who volunteer their time to add to everyone's roadtrip enjoyment! And last but certainly not least, I'd like to thank all of you, my Cathlete enthusiasts, who are the reason for my inspiration. You keep me going and in more ways then you can imagine and I can't thank you enough for it!!!!
Can't wait to see you again next year, but until then, on the count of three….one…two…three…CATHLETES ROCK!!!!
Love,
Cathe