(Last Updated On: July 12, 2009)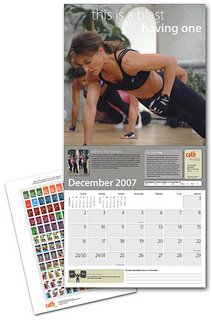 Our 2007 Cathe Calendar is truly a work of art and a must have collectable for all Cathe fans! The wall calendar measures 12 inches by 24 inches when opened and has been designed to help you chart and reach your fitness goals. You will love the large motivating pictures featured every month of Cathe and the crew and you can use our DVD cover stickers to plan future workouts or as your own "gold star" to mark a successfully completed workout day. Here are just some of the features you will find in the 2007 Cathe fitness Calendar.
#1 Cathe Trivia Question for every month.
#2 Did you know for every month.
#3 Behind the scenes picture and info for every month.
#4 Place to record your body weight and measurements for every month.
#5 Place to record your goals and workout notes every month.
#6 Cathe-isms… Some famous Cathe quotes taken from her many workouts.
#7 a fitness fact every month.
#8 stickers of the DVDs to place on the calendar to track your future and current workouts.