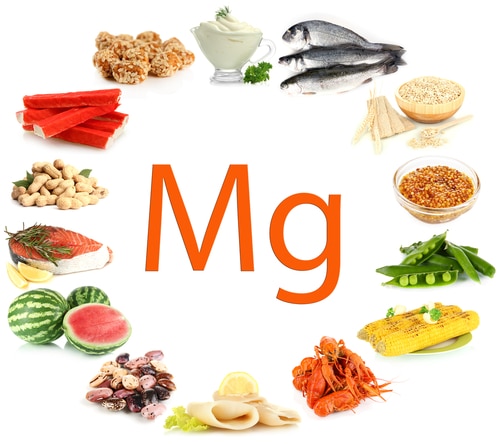 Magnesium is one of the less commonly considered minerals in diet. While it may not be something you think about regularly, the mineral plays a very important role in your health. As blood tests do not work well for detecting magnesium deficiencies, it can be difficult to figure out if you are low. According to some studies, most American are deficient.
 Symptoms of Magnesium Deficiency
When you are only slightly deficient in magnesium, you may notice that you feel tired and weak much of the time. You may not be interested in eating or may feel nauseous or even vomit. Once the deficiency is more pronounced, you may experience changes to your personality and heart rhythms, as well as facial twitches and muscle cramps. Numbness and tingling in various areas of the body, particularly the extremities, can also have symptoms.  Alcoholism, Crohn's disease, and celiac disease can all cause malabsorption of magnesium. Type 2 diabetes and age are also common factors.
How to Get More Magnesium
Certain foods are higher in magnesium than others. If you suffer from a lack of the mineral, you can often include it in higher amounts in your diet. You should aim for around 320-350 mg/day of magnesium for adults.
1. Pumpkin seeds – 315 mg per 1/4 cup serving
Pumpkin or squash seeds can easily be roasted on the stove or in the oven. Add some garlic salt and olive oil to improve the taste and increase the health factor. Just a quarter cup gives you your daily requirement of magnesium.
2. Brazil nuts – 133 mg per 1/4 cup serving
Large and buttery, Brazil nuts may not be that common, but they make a nice change from other nuts when you're tired. Try having them for a snack or chopping some nuts to add to a salad or other dish.
3. Sunflower nut butter – 120 mg per 2 tablespoons serving
Spread some tasty sun butter on your favorite whole grain crackers to get the most from it. You'll boost your magnesium, while also increasing your protein intake.
4. Cheese – 114 mg per 1.5 oz. Serving
Have some cheese cubes as a snack, toss them in with a salad or melt some cheese on your favorite sandwich. An ounce and a half is not much and can easily be eaten for a snack. Just don't eat only cheese, as it tends to be high in calories.
5. Black-eyed Peas – 121 mg per 3/4 cup serving
Black-eyed peas are a very economical way to keep your magnesium levels up. Packed with nutrition and fiber, the peas are a good addition to your daily menu. Eat them in any dish that calls for beans, or serve with a tomato sauce over brown rice.
6. Almonds – 100 mg per 1/4 cup serving
Almonds make a terrific snack when you are busy. Take a handful along with you when you leave the house and you can munch on them to reduce hunger and increase nutrition. The nuts also go well in muffins and banana bread, among other baked goods.
7. All bran cereal – 95 mg per 1/3 cup serving
A healthy breakfast is a great way to start off your day. Choosing All bran will help you boost your magnesium levels fairly easily. Add fortified milk to ensure you are getting plenty of calcium, as well.
8. Salmon – 90 mg per 2.5 oz. Serving
Most salmon filets are 4 oz, so you get a large part of your daily magnesium requirement from one meal. Bake the salmon with olive oil and lemons for an easy, delicious meal that will nourish your body.
9. Spinach – 83 mg per 1/2 cup serving
It is surprisingly easy to add spinach to dishes, as it has a mild flavor. Try blending a handful into your favorite smoothie, top your pizza with it, or shred some into your salad. It also goes well in soups and even sandwich spreads, so get creative.
10. Halibut – 80 mg per 2.5 oz serving
For those looking for an alternative to seeds and nuts, halibut is affordable seafood that can be added to your menu. The extra protein is also good for you.
In many cases, you can correct magnesium deficiency through diet. It is very difficult to overdose on the mineral, so go ahead and add more of these mineral rich foods to your diet.
Related Articles By Cathe:
4 Reasons to Add More Magnesium to Your Diet