Administrator
Staff member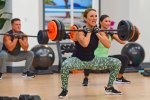 While all forms of squats work the lower body very well, each type of squat hits it from different angles shifting the focus to different areas of the lower body.
In a plié squat, there is a little more focus on the inner thigh and quads because the weight is being held in front of the body. This position shifts the emphasis over the quads and inner thighs more specifically. This exercise also requires a bit more balance thereby activating the core stabilizers as well.
Pre-Order Cathe's New STS 2.0: Muscle & Recovery Workout Program Now At:
https://bit.ly/2WDfkdh
and Get Free Worldwide Shipping!