Administrator
Staff member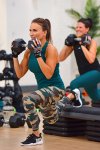 Pictured here Cathe and Jenn are doing elevated lunges in the Single Body Part Leg workout. Elevated Lunges strengthen the quads, hamstrings, glutes, and calves. Also, as a single-leg exercise, your core is forced to work in overdrive to maintain your balance.
Pre-Order Cathe's New STS 2.0: Muscle & Recovery Workout Program Now At:
https://bit.ly/2WDfkdh
and Get Free Worldwide Shipping!